June 16, 2021 - Community groups in North Vancouver have banded together in response to a spate of anti-Asian graffiti that sprouted in the city's Lower Lonsdale. Filipino Canadian artist Esmie Gayo McLaren was commissioned to provide a poster image with the message "Inspiring Connection and Friendship."
In April, graffiti with racial slurs and anti-Asian hate were discovered on walls and bus shelters in the city's Lower Lonsdale. One graffiti was discovered just steps away from North Vancouver-Lonsdale NDP MLA Bowinn Ma's constituency office.
North Van Arts, North Shore Multicultural Society (NSMS), North Shore Immigration Inclusion Partnership and Centre for Diversity and Innovation together with McLaren created a poster to display in public spaces.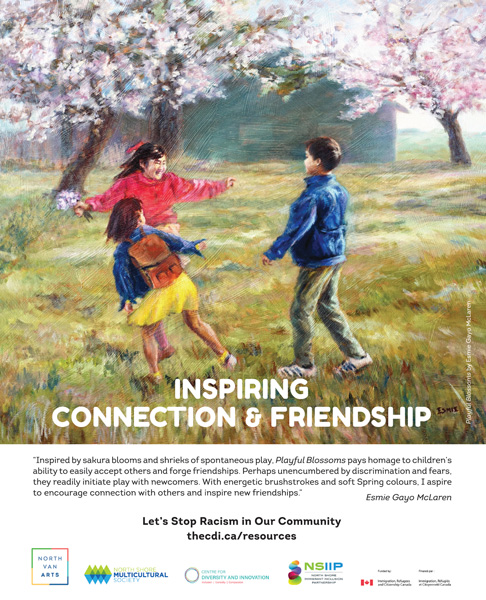 This poster was inspired by sakura cherry blossoms.
In a recent NSMS survey, 19 percent of North Shore newcomer survey participants who immigrated from countries in East Asia reported having experienced an attack, harassment or discrimination based on race.
In an email to Canadian Filipino Net, McLaren reflected on her role as artist to the community. "At the time, I was wondering what I could do to counter racially motivated hate crimes. I was very honoured to be invited to collaborate for this poster where my ideas for a positive approach were met gladly." She commented that "racism, has turned violent again, this time against Asians."
In a media release, North Van Arts Executive Director Nancy Cottingham Powell said, "The community can walk by CityScape Community ArtSpace on Lonsdale, and see this large poster in our windows. It is a way for us to recognize that we need to stop racism in our community, that the graffiti was unacceptable, and that we can start at a place of connection."
McLaren's artwork Playful Blossoms "pays homage to children's ability to easily accept others and forge friendship." McLaren used energetic brushstrokes and soft spring colours which she hopes will "encourage connection with others and inspire friendship."
Powell added, "We hope that Playful Blossoms inspires more community members to talk about how racism shows up in their personal lives, work space and public places and how we move toward more inclusive and positive community dialogue."
Posters are available to community groups and organizations from CityScape Community Art Space. Post cards are also available for distribution to the public.
---
Canadian Filipino Net is an independent, non-profit digital magazine produced by volunteer writers, editors and web masters. You can subscribe for free. To keep us going, we need your help. Donations of as little as $5 or $10 will go a long way so we can continuously write and publish stories about Canadian Filipinos. Just click on a donate button and proceed either through PayPal, Debit or Credit Card. You will receive a receipt at the end of the transaction. Thank you for your support.