The coastal town of Ragay in the province of Camarines Sur in the Philippines is one of those places you pass by on the way to a major city like Naga in Bicol. However small and unheard of, Ragay produced Dr. Jesse Ronquillo, multi-awarded scientist currently at the forefront of developing an Aquaculture Technician diploma program funded by the B.C. provincial government.
In spring of this year, the Ministry of Jobs, Tourism and Skills granted funds to the North Island College (NIC) in the amount of $600,000 to develop an Aquaculture Technician diploma. Dr. Ronquillo was hired to develop that diploma program which will be one of the first such advanced production training programs in B.C.
"I was exposed to coastal waters and the natural beauty of the sea growing up in the town of Ragay," Ronquillo reminisces.
His grandfathers, one from Bulacan province and the other from Quezon province, both availed of the distribution of free agriculture lands by the Philippine government in the 1950s under President Ramon Magsaysay. Ronquillo grew up surrounded by fishponds managed by one side of the family and fishing as a livelihood being practiced by the other.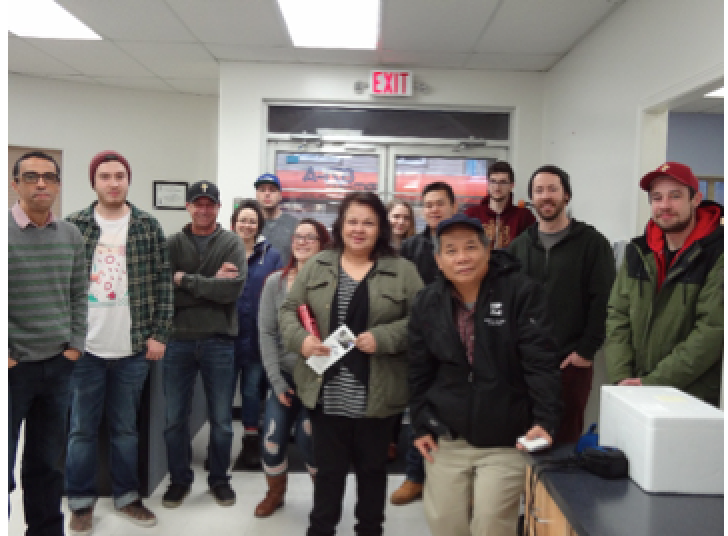 It seemed like it was a natural course of action for Ronquillo to have taken a science undergraduate degree in fisheries at the University of the Philippines in Diliman, Quezon City, and masteral and post-doctoral degrees in fisheries and aquaculture at Kagoshima University in Japan. But what proved to be providential is his move to Canada.
In 2001, Ronquillo was offered a job at the University of Maryland in the United States. However, it was also the year of 9/11 and the Anthrax letters found at a Maryland government agency. He recalls, "We were supposed to have immigrated to the United States as I had already been working with the University of Maryland but 9/11 and the Anthrax letters happened and, at the same time, our applications for Canadian permanent residency were approved; so we decided to move here." It also helped that his wife already liked Canada.
As a member of the University of British Columbia (UBC) Centre for Aquaculture and Environmental Research, Ronquillo was awarded the prestigious Natural Sciences and Engineering Research Council of Canada (NSERC) research fellowship award from 2004 to 2007.
He kept his ties with UBC when he joined the faculty of the Nova Scotia Agriculture College as associate professor and Dalhousie University as adjunct professor. It was through his UBC network that when the marine and aquaculture industry went looking for an expert, UBC provided Ronquillo's name and contact information. He was chief aquaculture scientist for a B.C.-based fish and shellfish distribution company before returning to the academe at NIC in December 2016.
"Aquaculture is the fastest growing food industry in the world today because it sustains the consumption of a rapidly growing world population," Ronquillo notes.
However, he adds, "Wild food sources in the ocean are dwindling because of exploitation and irresponsible practices." The goal, he says, is to develop technology that is both sustainable and will protect the natural environment. The three pillars of marine aquaculture development are environmental, economic and social sustainability.
In developing the Aquaculture Technician diploma program, Ronquillo closely collaborated with major companies to determine the needs and demands of the industry. Students are expected to include existing aquaculture employees upgrading their skills and new trainees who could work locally or around the world as international demand grows.
Ronquillo says, "The demand from industry to develop sustainable technology is so great that the need for aquaculture technicians will continue to grow at least in the next 10 years."
He also points out that First Nations groups were consulted with regards to their traditional knowledge and practices.
Looking at the Philippine seafood and fish industries, Ronquillo believes that the latest technologies can definitely be applied to the farm production of fish like bangus (milkfish) and tilapia as well as shrimp and prawns. He opines, "In the Philippines, we need to improve the feeds management systems and water quality monitoring in ponds and fish farms as well as educate fishermen and fish farm operators on the effects of aquaculture waste and environmental sustainability."
In 2011, Ronquillo was conferred the Balik (visiting) scientist award by the Philippines' Department of Science and Technology (D0ST). As such, he continues to collaborate with DOST, fellow marine and aquaculture scientists as well as with the University of the Philippines academe.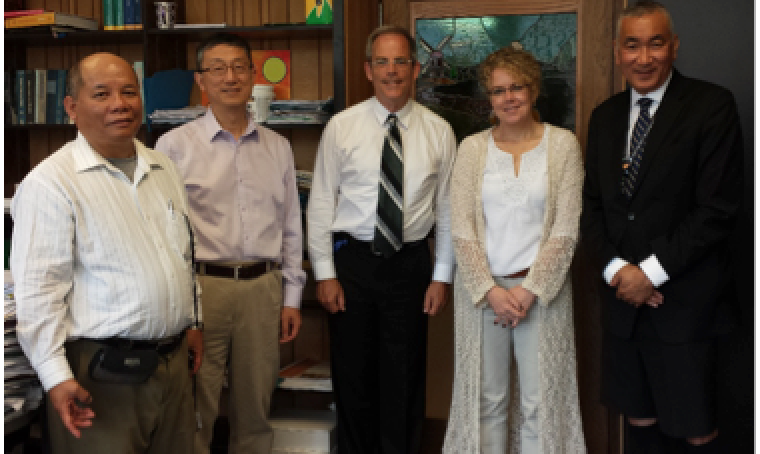 Recognizing that Canada's academic standards are different from those in the Philippines, Ronquillo's advice to new Filipino immigrants to Canada is to grab opportunities to constantly upgrade one's skills and knowledge. He also advises to keep one's ties with those in one's chosen career field. He relates, "I was able to join the academic world of UBC probably because of my background and achievements. I was also able to use my network in Japan to introduce my UBC colleagues in pursuit of collaborative research work."
Reflecting on the Canadian Thanksgiving, Ronquillo says he is "thankful to the Canadian community for the opportunity to practice my profession and be able to use my expertise to collaborate and be part of the quest to grow and improve the aquaculture industry in the most responsible way".
---
Canadian Filipino Net is an independent, non-profit digital magazine produced by volunteer writers, editors and web masters. You can subscribe for free. To keep us going, we need your help. Donations of as little as $5 or $10 will go a long way so we can continuously write and publish stories about Canadian Filipinos. Just click on a donate button and proceed either through PayPal, Debit or Credit Card. You will receive a receipt at the end of the transaction. Thank you for your support.