WINNIPEG – Cakes are an integral part of happy occasions and make everything livelier and more special. Highly popular wedding cake shop Gelyn's Wedding Lounge has been delighting clients with delicious and beautifully designed cakes for over 40 years. They may be the only wedding cake shop in town that also provides marriage licenses!
The sweetest journey
Erlinda "Nanay Linda" Magnaye-Ramos hails from Lipa, Batangas and grew up in Quezon Province. Her husband Gerry Ramos is from Zamboanga where they met in their teens and fell in love. They eventually married and decided to immigrate to Canada in 1970.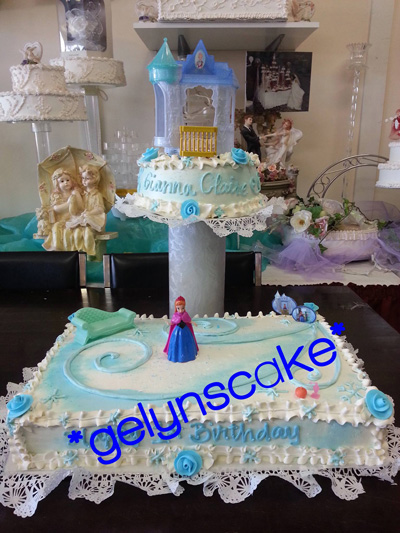 Like any new immigrant, the couple and their children faced many challenges and had to make adjustments. But through hard work, perseverance and living within their means, they were able to adapt to their new home country and make new friends.
One day, Gerry told Linda that they were having some friends over from work. Drawing from her high school home economics class in Manila, Philippines, Linda baked a cake, which the guests really liked. One of them was a young lady who was soon to be married.
"She asked me if I could bake a wedding cake for her. And I readily said yes!"
From that wedding and through word of mouth, Nanay Linda's clientele slowly grew. From simple folks to affluent clients, their parties were never complete without a cake from Gelyn's Wedding Lounge – the name derived from a combination of "Gerry" and "Linda."
Gelyn's seems to know exactly what kind of cake to bake to make events truly enjoyable and memorable. Clients rave about the delicious taste and well-crafted designs. That they are also affordable makes the cakes a party favorite, may it be a wedding, birthday, graduation, social or any other occasion. Some visiting clients from the U.S buy the cakes as pasalubong for their family and friends. Besides cakes and other baked goodies, Gelyn's also offers balloons, invitations, accessories, and yes, marriage licenses.
Nanay Linda is the only member of the International Cake Exploration Societe (ICES) in Winnipeg. According to their website, members gather to "preserve, advance and encourage exploration of the sugar arts."
"I attend the yearly convention in Las Vegas for a week, to learn about fresh ideas and new techniques about cake-making."
Gelyn's Wedding Lounge is not just about cakes, it is also about community. Linda and her now deceased husband Gerry have always instilled in their children the value of giving back and sharing their blessings with others. Gelyn's continues to be actively involved in various community events through sponsorships and volunteerism.
"It's important to share your blessings. Help others and they will help you back. Trust God and everything will be all right."
Now in her 80s, Nanay Linda's granddaughters are helping her out more with cake designs.
Gelyn's Wedding Lounge is located at 690 Ellice Avenue in Winnipeg, MB. You can contact them at 204-772-2075. You can also check them out on Facebook.
---