June 16, 2020 - Canada takes pride in being a multicultural society. However, this immense diversity also means that the wealth and richness of cultures can sometimes be a challenge to unpack and enjoy.
Fortunately, a young Filipino couple in Vancouver has kept the unpacking as simple as having a cup of joe.
Paolo and Iona Fresnoza have started expressing what it means to be Filipino and Canadian at once - quite literally at that - with Kapé, the Filipino word for "coffee." In 2018, the Fresnozas started a small business in Vancouver for batch-roasting mainly Arabica beans from the Philippines - with tasting notes that can be described with fruits like langka, sampalok, calamansi, papaya and marya-marya (mirinda) - and marketing the coffee to Canadians.
The response from locals has been phenomenal. Kapé was a hit among several community fairs and farmers' markets in Vancouver last summer. Kapé, with support from Vancouver's coffee roaster extraordinaire Stacey Lynden, competed at the prestigious Golden Bean North America Awards last year and won bronze in the Filter category, besting 435 entries from around the world.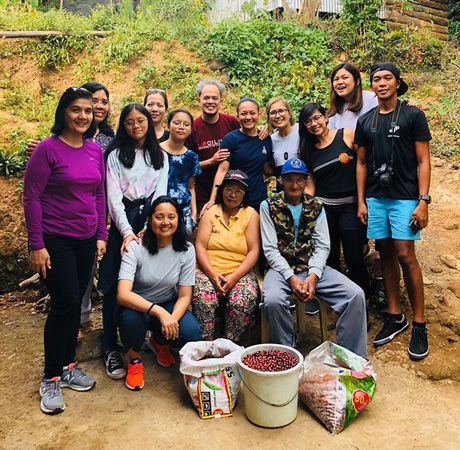 Manang Mina and Uncle Ernesto (seated, centre and right) with coffee harvest volunteers from the Philippines, Canada, and the U.S. Photo by Kapé, Beanstock Coffee Festival.
"Our cupping score is quite high for a coffee of unpopular origin," shares Iona, a program coordinator at a Vancouver nonprofit and a social entrepreneur. "I would think we have the capability to score even higher, but we're still in the process of streamlining and improving the way we process the coffee."
Iona learned the ropes of the coffee trade while helping run a café and a non-profit organization in Quezon City, Philippines with her aunt. Her active involvement in Canada's lively community of startups helped elevate her social entrepreneurship to a whole new level.
The Philippines has a strong coffee culture, and its colorful language reflects that. For example, "Barako," a native term for liberica coffee, is used to describe someone who is tough but cool. The word "kape" is even part of the wordplay used in a popular children's game: nanay/tatay/gusto ko'ng tinapay/gusto ko'ng kape. Such cultural percolations should not come as a surprise, given a coffee-growing nation that sits right on the world's coffee belt.
However, it does come as a surprise that Filipino coffee is still unknown in many parts of the world. This is because Philippine coffee farmers are constantly plagued by challenges in their own land, such as profit-seeking middlemen who buy their coffee at dirt-cheap rates, even though it has taken the farmers four to five years to cultivate and process, stifling the native industry.
After learning of the plight of the farmers, Iona's aunt started a company to work directly with the farmers, and a non-profit organization was soon set up to help bridge farmers and their coffee to the wider public, and vice versa. This is where Iona fell in love with coffee and the community and there was no turning back. "We would organize volunteer trips twice a year to help plant and harvest coffee with the farmers, and it helped people understand the work farmers had to do before you had a cup of coffee, which is easy to take for granted. We wanted to connect coffee consumers and enthusiasts to the story," Iona explains.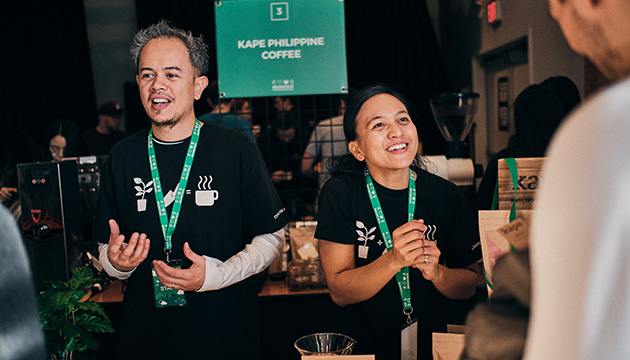 Paolo and Iona Fresnoza at the Beanstock Coffee Festival in Vancouver. Photo by Kapé, Beanstock Coffee Festival.
Not only do the Filipino farmers in the Kapé community get this support from the Fresnozas; they are fully recognized and named even on the packaging. There's Davao-based farmer Marivic Dubria's coffee that tastes like honey and langka, and Manang Mina's coffee reminiscent of ripe papaya and calamansi. There's one from Uncle Florencio and Auntie Florencia that reminds one of sweet tamarind candy, peach, and maple syrup. Every farmer is singular and unique, and the coffee they produce reflects this diversity.
The Fresnozas' efforts to bring Philippine coffee to Canada's coffee enthusiasts are finally bearing fruit. "Here in Vancouver, there's a nice community of coffee enthusiasts and advocates who give great feedback and share what they think can be improved. That's our way of helping the farmers out: by improving the coffee, increasing production and hopefully gaining the attention and recognition of the world. We're on the coffee belt but it's not an acknowledged origin of coffee yet. I think there are initiatives being done and in our own way this is what we're doing to make it happen."
To celebrate Philippine Heritage Month this June, Kapé will be participating in the Magkasama Virtual Market (www.magkasama604.com), which goes live starting June 15th.
Others events lined up include a Pilipinas Trivia Night and a Kapé virtual coffee tasting.
As a response to the COVID-19 crisis, Kapé has donated coffee for care packages across Vancouver. Their webshop remains open for orders.
To learn more about Kapé and join their upcoming online events, visit www.kape.coffee..
---