"Good real estate is the successful merging of vision, economics, talents, timing and relationships. With the right personal strengths combined with a great set of people who work at and with PortLiving, the business of development has been fun, creative and fulfilling"...Tobi Reyes
A 1.5 generation Canadian Filipino, 'Tobi' Reyes has splashed into the tricky waters of Vancouver Real Estate Development with, interestingly, a nautically-themed condominium building located at the foot of the Cambie Street Bridge, a gateway to the downtown peninsula. This boutique condo project called South Creek Landing consists of 15 homes and won two prestigious awards in 2016: the Georgie Award for the Best Multi-family Mid-rise/High-rise, and the Lt. Gov. Special Jury Award for Contextual Innovation. This building has now become an icon in Vancouver's glittering 'condoscape'.
Tobi Reyes was born in Manila and moved to Vancouver in 1979. He studied at St. George's School, then took up psychology/history at Queen's University. Ever since he could hold a pen he loved to draw, and along the way this artistic bent evolved into a broader interest in art, design, environmental sustainability, and entrepreneurship. His first adventure as an entrepreneur was a dial-up internet service provider in the Philippines (Impact Information Systems).
Tobi's first taste of Vancouver real estate was in the commercial sector when he, along with partners, purchased a warehouse in Mount Pleasant. This led to the creation of PortLiving, and eventually their first residential project South Creek Landing. Founded by Tobi in 2003, PortLiving now has 12 residential projects and 3 commercial projects built or under construction/development. With current projects in Vancouver, Seattle and Toronto, PortLiving's portfolio consists of award-winning developments, ranging from low-rise buildings to innovative towers totalling more than a million square feet of space.
What strategies did Tobi use to transition from a psychology/history major, to a tech entrepreneur, to success in a highly competitive real estate/property development market such as Vancouver?
"I loved the application of skills needed to create a successful real estate company. Since the earlier days related to founding a tech business, pursuant to endeavours in commercial and residential real estate, I have always benefited by collaborating on diverse projects alongside great teams. Real estate is a process that requires the involvement of many people with various talents and abilities and we're always searching for better combinations and better ways of solving problems to make smarter real estate decisions." Tobi's vision is encapsulated in PortLiving's mission statement which includes "a commitment to innovation, craftsmanship, and building, not just buildings, but neighbourhoods."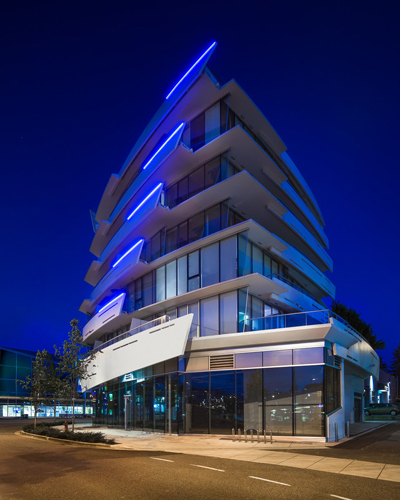 To achieve business success, Tobi offers some advice:
- "Know yourself and build a team. Know what you're good at and what you're not. Identify the same in others so they can complement you."
- "Keep learning. School is just the beginning, and experience will become the teacher for the rest of your life."
- "Be credit-worthy and build a brand. Whether it's in your name or your company's name, give people a chance to respect you...trust is the key to all relationships. Business requires trust."

Some of his success Tobi attributes to his Filipino roots, such as:
- "Being grounded by a strong sense of family...As the backbone of almost all our daily activities, family has given me the love and confidence to grow and serve others"
- "The golden rule and empathy. Treat others the way you would expect to be treated yourself. This applies to your team and to your customer... applying empathy to real estate helps one consider several factors such as design, livability and affordability."
- "Hard work - take nothing for granted. We ... find ways to smile in the face of adversity. Failure is commonplace. Through hard work, constant effort and acknowledging each success as a blessing, I find that it is easier to contribute positively and evenly through ups and downs."
Tobi Wants to Help Realize the Dream of a Filipino Community Centre – Can You Help?
When asked about the ongoing dream of a Filipino community centre in Vancouver, Tobi says:
"The Filipino community is one of the largest groups in Canada – but also potentially the most disenfranchised. We are a community without a home, without a face, and without a voice. ..I would love to develop a centre we can be proud of – and one which potentially serves as a model for other cities. I hope to be able to kickstart this commitment with my own resources, but ultimately, we will need funding, leadership and resource."
Further, Tobi states that "I have some space in Mount Pleasant which may be useful as an interim platform for the centre. For the moment, there is no official status, no official members/supporters, and no plans committed. But I would like to engage the community sooner rather than later through this temporary space as a way to offer some services, but primarily as a beachhead to help begin the process for the permanent space."
Filipino community leaders – this may be our opportunity! Canadian Filipino Net is prepared to assist in assembling a group of individuals who might begin this process with Tobi. If you and/or your organization are interested to help, contact: This email address is being protected from spambots. You need JavaScript enabled to view it.
Canadian Filipinos are capable of great accomplishments. Join in!
For more on Tobi Reyes and PortLiving, check these links:
https://www.biv.com/article/2014/10/tobi-reyes-tech-startup-rising-real-estate-star (Business in Vancouver article)
http://www.canadianinquirer.net/2015/05/26/the-master-realtor-macario-tobi-reyes (Philippine Daily Inquirer article)
http://portliving.com/ (PortLiving website)
---