Despite the glamour and privileges attached to a career in diplomacy, it is perhaps one that constantly requires a good deal of soul-searching, having to wade through tidal changes in national policies that come with revolving doors of politics.
The current Philippine ambassador to Canada, Petronila Garcia, has not only walked that fine line for over 30 years, she also had to measure up, if not do better, to a predominantly male group of Philippine ambassadors.
Garcia holds the distinction of being the first woman ambassador to be appointed to the Canadian post in 2014 and the first woman ambassador to be posted in an Arab country when she served as ambassador to the Arab Republic of Egypt with concurrent jurisdiction over Sudan from 2004 to 2007.
Prior to her assignment to Canada, she held the position of the assistant secretary for Middle East and African Affairs at the Philippine Department of Foreign Affairs (DFA) in Manila beginning in 2011.
Her ascent to ambassadorship, of course, was a long and uphill climb. At the 2017 Filipina Leadership Global Summit kick-off event in Toronto and reported by the Philippine Daily Inquirer, Garcia recalls that in the early 80s when she was just starting out at the DFA, she overheard her male colleagues whisper, "Walang alam yan kasi babae yan." (She knows nothing because she's a woman.) That comment was interpreted as a dare. "So I went and took the Mensa test and passed it, just to prove them wrong." Mensa is the largest and oldest high IQ society in the world open to people who score at the 98th percentile or higher on a standardized, supervised IQ or other approved intelligence test.
Born in San Juan, Metro Manila, Garcia has family roots in Negros Occidental and holds two bachelor's degrees and a law degree. As a career diplomat, Garcia has served in Philippine embassies in Singapore, Australia, Israel, South Africa and South Korea.
As a proud patriot and true Philippine representative, Garcia responded to an op-ed article written by the ambassador of the People's Republic of China on the issue of territorial claims on the West Philippine Sea. In a letter to the editor of the Ottawa Life Magazine where the op-ed piece came out in spring of 2016, she did not mince words when debunking the op-ed's inaccuracies.
Highlighting the Philippines' arbitration case on maritime entitlement with the Arbitral Tribunal under the United Nations Convention on the Law of the Sea (UNCLOS), Garcia wrote, "The Philippines' arbitration case is consistent with the principles established in the Declaration of Conduct, which does not limit the Parties' options exclusively to consultations and negotiations between and among themselves. Each Party has every right to seek legal remedy in another forum, as the Philippines did when dialogues and consultations have become futile, ineffective or impractical."
On top of her demanding job as ambassador, Garcia actively spearheads events advocating women's rights.
Towards the end of 2017, the Philippine Embassy in Ottawa commemorated an 18-day campaign to end violence against women, capped by screenings of two Filipino films: Lino Brocka's Insiang and Lauren Sevilla Faustino's Ang Babae sa Likod ng Mambabatok (The Woman Behind the Tattoo Artist). At the event, Garcia acknowledged that although the Philippines ranks relatively high on the UN Gender Development Index, "violence against women remains an issue of public concern."
In October of last year, Garcia was keynote speaker at the 14th Filipina Leadership Global Summit held in Toronto. Referencing the adage "behind a successful man is a woman", Garcia asserted that those times are gone. She said, "For every achievement that a woman reaches, she can now stand alone in the limelight and claim credit for these and receive the congratulations of those who benefit from them." She jokingly adds, "And the husband would, of course, still be there to drive her home."
In the same speech, she enjoined those present to celebrate women's successes, the journey to which, she said, depends on the "commitment to take the additional steps necessary to reach one's goals." Maintaining that the glass ceiling in the Philippines has long been broken with the leadership of former President Corazon Aquino, she invites everyone, "Let us help women in other places break the glass ceilings which have prevented them from reaching the pinnacle of economic and political power in their respective countries."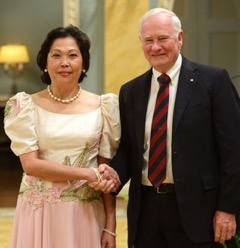 ---
---