No one could breathe math to animated life than a math geek posing as a drag queen – or is it a drag queen posing as a math geek?
TikTok sensation Kyne Santos, known as @onlinekyne to over 770,000 followers, initially posted YouTube tutorials on how to style wigs and make costumes. But the pandemic happened.
"I was feeling really, really depressed and bored, out of my mind while in quarantine and it got to a point where I was not really inspired to do drag…I didn't have the inspiration to do my regular YouTube content," Santos muses in one of her videos.
"I've always loved doing math and wanted to create my math into video." She picked up TikTok which she did not like at first but noted that TikTok videos were actually funny. Santos warmed up to the app's "short bursts" and started using it to do math drills, most of which she calls the "riddle of the day."
She notes, "I'm not a mathematician or an expert by any means; I don't even have my degree yet but it's the one area where I feel very confident in talking about, very confident in teaching because I've been a math tutor to multiple students." As of the last count, those TikTok videos have garnered over 15 million likes.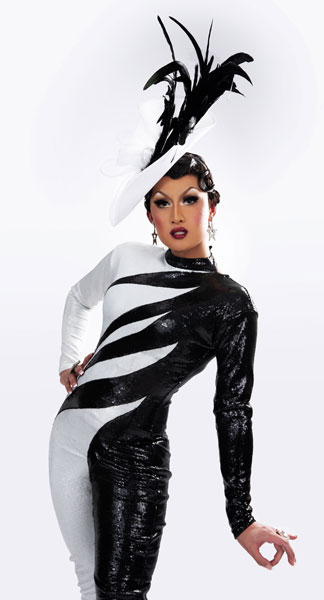 Kyne Santos known as @onlinekyne has over 770,000 followers.
Santos breezed through math courses in elementary and high school but it was only in the last couple of years in high school that she found it actually interesting. This led her to competing in math contests.
"Out of the 16,000 students, I tied for third," she recalls of one particular math camp that landed her an entrance scholarship to the University of Waterloo. "This math camp opened my eyes to how wonderful math could be… so much more than just computations and numbers and calculations."
Santos is in her last semester at the university completing a degree in math with a major in mathematical finance.
"I love doing drag and I love making math videos online for people to enjoy because it combines my two passions," Santos shares with Canadian Filipino Net (CFNet). "But lately I've been thinking about continuing my education because I love academia and I love learning. I feel as though through teaching math online I have made myself fall back in love with the subject and rekindled the spark of curiosity all over again."
In one video, Santos refuted a headline in a 2011 newspaper that claimed half of US job growth in June came from the state of Wisconsin, reporting that of the increase of 18,000 jobs nationwide, Wisconsin accounted for 9,500. Santos clarified that the national net job increase is a result of increases as well as losses, noting that in the same month other states created thousands of jobs. "While it's said that numbers don't lie, in this case, it's incredibly misleading and don't tell the full picture."
A follower summarized what one would typically feel after experiencing Santos' videos: "A queen teaching math is the only thing that could save my grades at this point." Such comments resonate with Santos' reason for continuing her advocacy. "School teaches people to be good at math, but not how to find it interesting," she muses.
While math comes easy for Santos whose family, like most traditional Filipino families, values education, drag came with a little difficulty. "My parents didn't like it at first, so I tried to hide it. But after enough time they came around, especially once they saw it was really an artistic outlet of mine," Santos tells CFNet. She was five when the family moved to Canada from Manila, Philippines.
Like math, her journey to drag also started in high school. "I first experimented with putting on makeup in secret," she recalls. "I started out with what you could call 'male makeup' which was super undetectable, but one Halloween I experimented with my cousin's eyeshadow palette and tried out a smokey eye." She started a YouTube channel as an excuse to try out makeup that she was "too shy to wear out and about." Santos recalls, "Eventually I got the confidence to start going about my daily errands with a full face of makeup."
Her drag inspirations come from the likes of Diana Ross and Celine Dion. She quips, "I just love a good old larger-than-life diva." She's a fan of RuPaul's Drag Race but never thought she'd get a chance to join the show because it was initially an American production. "But then Canada's Drag Race came along, and I wanted to see how I'd fare!" Santos qualified for the show's first Canadian season earlier this year but was eliminated within the first few episodes.
As a kid from the Philippines navigating life in Canada, Santos' advice to Filipino Canadian youth is to find a good balance. "It can be really tough if what you want for your life is different from what your parents want. I don't really like to give the advice of just throwing your family's regards to the wind and putting yourself first, because I believe in family," she reflects."On the other hand, I also believe that you are the only person in charge of your own destiny so you have to do what makes you happy."
---
---