Toronto's own Pinoy Boy, social media sensation Mikey Bustos came home to enjoy some time off after the viral success of his Despacito parody, titled, I Wear Speedos.
The hilarious music video, which most recently got featured on CNN and other media outlets, shows him singing about how he loves how liberating it is for him to spend a day at the beach in his favourite swimwear vs. shorts. "The general message of that whole song is to be comfortable in your skin and wear whatever you want despite what other people think of you," he explains. "So it's really a song about freedom which can be applied to different things."
The video has reached over 8.8 million views on his YouTube channel and over 34.2 million views on Facebook. Bustos signed autographs and took photos with fans at his meet and greet at Marcelina's restaurant in North York on July 30 and in Montreal on August 6 at Isles Pinoy Depot to promote his latest CD.
With over 537,000 followers on his YouTube channel and over 1.4 million fans on Facebook, he spends most of his time running his daily vlog and performing at concerts all over the world while running his Ants Canada business. He first burst into the spotlight when he made it to the finals of the first season of Canadian Idol back in 2003 and he attempted to try his luck at showbiz in the Philippines but he returned to Canada when things did not work out. As they say, when God closes a door, somewhere He opens a window and this "setback" served to redirect Bustos towards his calling. Back home in Canada, he got a 9-5 job but still could not shake off his dream of working in entertainment. When his cousin gave him a webcam for Christmas, he resolved to post one video per day on YouTube to increase the chances of one of them going viral. It did not take long before he posted his Filipino Accent Tutorial, which became his first viral hit.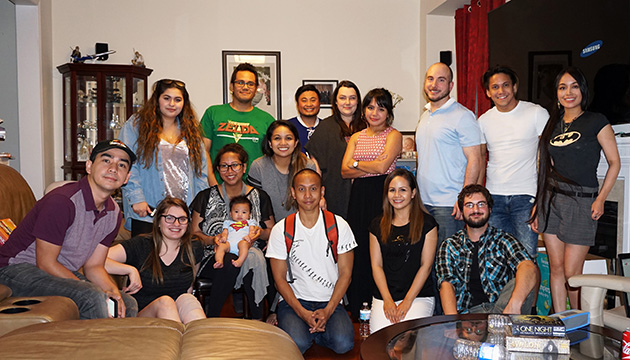 Although known for his hilarious antics, he initially wanted to simply be a singer and accidentally discovered his natural comedic chops when he won more fans with his Filipino culture themed comedy skits. "Comedy wasn't my cup of tea and I'm like, what the heck? Do people find me funny? I also learned that I don't just sing. I can actually do comedy and do some acting too. So it was really a discovery of new talents and skills and had I not done that and YouTube, had I not given up in 2007 to escape and go away, that wouldn't have happened," he explains. More than his talent, he is adored by fans worldwide for his down-to-earth nature and big heart. He and his manager and friend RJ Garcia run the Apple Drive Project which organizes feeding programs and distributes apples, toiletries and other essentials to children in need in different communities in order to teach them healthy eating habits and the value of giving. Support the Apple Drive project at http://theappledriveproject.com
Bustos is currently in Singapore for an upcoming concert but will be back in Canada for a show in Montreal on October 28 at 6pm at the Brebeuf Auditorium. For tickets call 514 991 2449 or visit Isles Pinoy Depot at 6045 Victoria Ave, Montreal, Quebec, QC H3W 2S1.
---