Up close and very personal is how Kat Jayme conducts herself.
The documentary filmmaker has produced films since her days as a student at the University of British Columbia's (UBC) Film Production Program. But it was perhaps her latest film Finding Big Country that the captive audience sat up and paid attention to.
The critically acclaimed Finding Big Country documents Jayme's search for the Grizzlies center Bryant "Big Country" Reeves who's her childhood hero. Reeves started playing for the Vancouver NBA team beginning in 1995 when Jayme was just a precocious seven-year-old.
Growing up, Jayme shadowed her big brother Tim as he went through various sports phases. "Everything my brother did, whether he was in a baseball phase or basketball phase, I did," remembers Jayme. "But basketball never left me and memories of going to a Grizzlies game were some of my most vivid, visceral memories."
Jayme stands just over five feet tall while Reeves towers at seven feet tall.
After a tumultuous six seasons with the Vancouver Grizzlies and a brief stint with the re-located Memphis Grizzlies, Reeves retired from professional basketball, never to be seen or heard from again, until Jayme set out to look for him.
Jayme had her own troubled journey in basketball: she had played high school basketball and had tried out for the UBC varsity team but didn't make it.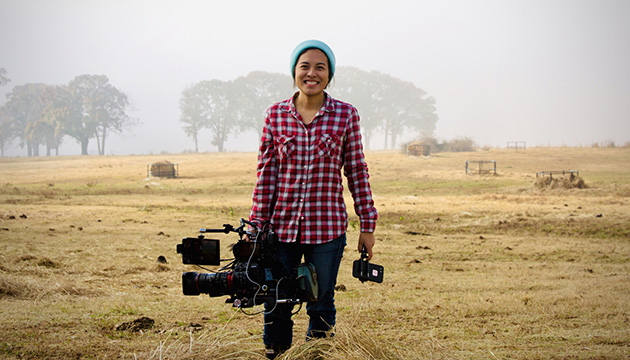 So when Jayme realized that a future in basketball wasn't going to materialize, she turned to her other passion and unmistakable birthright: filmmaking. Jayme's maternal grandfather was a film director and producer Danilo H. Santiago - brother of prolific film director Cirio Santiago and son of legendary Dr. Ciriaco Santiago, the founder of Manila's Premiere Productions which was one of the Big Four Studios churning out films during the first golden age of Philippine cinema in the 1950s.
Jayme notes that "being a Filipino in Vancouver is very personal." Jayme tells Canadian Filipino Net (CFNet), "My great-lolo and great-lola were visiting their daughters in San Francisco when news of the imposition of martial law came out. They chose self-exile rather than support martial law and sought political asylum in Canada, somehow ending up in Vancouver."
Jayme's great grandparents were Salvador and Victoria (Lopez) Araneta. The Aranetas were critical of the Marcoses and would have certainly faced imprisonment had they gone back to the Philippines. Their daughter Maria LinaAraneta married Danilo Santiago.
Upon completion of the UBC program in 2011, Jayme joined the National Film Board of Canada, initially as an intern but eventually working as a full-time production coordinator for over 30 documentaries, animations and digital projects through various stages of production. It was around this time when she worked on Paradise Island, a documentary on the residents of the island of Boracay in the Philippines where her family frequented vacationed.
Jayme shares with CFNet, "It was beautiful when we first vacationed on Boracay but every year, it became louder and more crowded."
One year, on an excursion inland, Jayme discovered a dump site where all the garbage was brought. This disturbed the environmentalist in Jayme. She wanted to find out more and started befriending kids who got paid to build sandcastles on the beach and asked the locals about their thoughts on tourism and what it does for them and the island.
"They loved having tourists, so tourism is not in itself a bad thing but needs to be done with more thought," she related. "Paradise Island showcased what real life on the island, not the temporary tourist life, is like."
Paradise Island was featured in the 2015 Cannes Short Film Corner while Finding Big Country received the 2018 Vancouver International Film Festival Super Channel People's Choice Award.
"I always knew there was going to be an audience, but I was blown away by the reception," Jayme muses. The film had sold-out screenings during its tour.
In October, Jayme co-organized a rally in Vancouver's Rogers Arena during a pre-season game between the Los Angeles Clippers and Dallas Mavericks to #BringBackTheGrizz. Of the advocacy, she notes, "There is a lot of interest right now, particularly because of the Raptors' win which was huge for Canadian basketball." The Raptors and the Grizzlies were part of the NBA's expansion into Canada in the 1990s.
Jayme plans to produce a feature-length documentary about the Grizzlies and, further down the line, a documentary on the Marcos atrocities.
She was in the Philippines when Philippine President Rodrigo Duterte allowed the burial of Ferdinand Marcos' remains at the Bantayog ng mga Bayani (Heroes' Cemetery).
It hit so close to home, Jayme claimed, "I do have a personal angle on this story that needs to be told."
---
---