When I was growing up in the Philippines, our family did not have a Christmas tree during the holidays. What we always had on our windows were home-made brightly lit star-shape Christmas lanterns called parol from the Spanish word for lamp, farol. They represent the Star of Bethlehem which led the Magi to the Infant. But the centrepiece of our Christmas decoration was the Christmas Belen.
On a black half moon-shape table at the entrance to our house was a carefully laid out nativity scene. It was composed of papier mache figurines of Mary, Joseph and the Infant Jesus surrounded by angels, cattle, shepherds and their flock and the adoring Three Kings all under a makeshift cardboard stable. The stable was topped by a shining star made of white translucent capiz shells. Under the table between its handsomely carved legs were gift boxes of various sizes and colors which we kids shook and rattled every time we passed by to see if we could guess what was inside and for whom.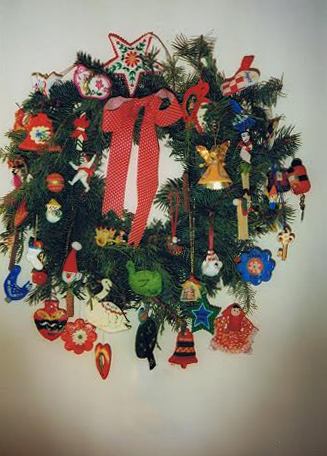 This manger scene or crèche, depicting the birth of Christ in a lowly manger, was a traditional Filipino Christmas symbol called Belen for the Spanish name for Bethlehem, the city of David where Christ was born. During the holidays in the Philippines, a Belen could be seen in homes, churches, schools and even office buildings. Some Belens for public display in shopping malls and office buildings could be extravagant, using different materials and sizes for the figures and Christmas lights for the Star, with elaborate painted background scenery.
In all the happy Christmases of my youth in Manila, the Belen was a cherished family tradition so when I started a family of my own, a holiday ritual we love to observe in Canada was the setting up of the Nativity Scene on the First Sunday of Advent, often the last Sunday of November. Prod and I had collected many nativity sets from all our travels. There were carved olive wood figures from Jerusalem, colorful painted tablas from Mexico, hand-crafted figures of bread dough from the studio of Sculptor Guayasamin in Ecuador and a delicate porcelain set from Vienna. In Bogota, Colombia we got a finely hand-crafted leather nativity set. But our treasured crèche from the Philippines is a unique clay set of the Holy Family and angels in a manger scene complete with a menagerie of carabao, goat, pig, dog, and roosters, chickens and ducks.
In Vancouver, our granddaughter Maya has always been fascinated by our Christmas Belen which she helps decorate. Prod had made a makeshift stable where the Holy Family, the Three Kings, some shepherds and animals are grouped in a tableau. Outside the stable sits a small basket of straws. An empty manger is placed in front of Mary and Joseph. Starting on the first day of Advent and every day before Christmas, we told Maya that every time each of us did a good deed, we could put a straw in the manger to make the manger soft and warm for Baby Jesus on Christmas day. Maya always had the honour of placing the Baby Jesus on the straw-filled manger on Christmas Eve.
When Maya was old enough, she loved to put a straw in the manger for every good thing she did. A piece of straw went into the crib because she brushed her teeth, put away her toys, or ate all the dollar pancakes on her plate. Once, a handful of straw landed on the manger after she helped me shell a bowl of peas. One Christmas, Maya decided to redecorate the nativity scene. She thought the straws were itchy and not soft and warm enough so she cut up pieces of white flannel and used them instead.
At a Christmas party at her pre-school, her teacher was telling the children that Christmas was the birthday of Baby Jesus. Maya raised her hand and proudly announced to one and all that she knew this because "Baby Jesus lives in my Grandma's house." When we came to get Maya after school that day, her teacher asked me about Maya's Baby Jesus. She was delighted when I explained our Christmas Belen tradition and asked if she could introduce the practice to her family and friends as well. Thanks to Maya, I now hope that baby Jesus lives in many Vancouver homes.
---
---