[N.B. The 19-fragment buto/buto: bones are seeds ran for five sold out nights, 27-31 July 2022, at the Russian Hall in Vancouver.
The audience got a treat of the 19 fragments aka vignettes that the three playwrights Karla Comanda, Christopher Nasaire, Marc Perez put together with the additional texts of Leonora Angeles, Eleanor Guerrero-Campbell, and Ted Angelo Ngkaion. What started out as the Jose P. Rizal's 160th year project of three organizations (National Pilipino Canadian Cultural Centre, NPC3; Southeast Asian Cultural Heritage Society, SEACHS; Anyone Can Act Theatre, ACAT) for 2021 ended up being shown in Covid-19 endemic 2022 to depict Filipino migrants' stories that approximate those of the famed 19th century Filipino migrant's, Rizal. The funding agencies – Canada Council for the Arts, BC Arts Council, and City of Vancouver – believe that the three organizations can do it amidst and beyond the pandemic.]
When an intergenerational mix of Asian artists and non-artists stages a production such as buto/buto: bones are seeds, a spectrum of personalities outshines the colors of a rainbow.And these personalities clash to showcase the uniqueness of Filipino ingenuity. The clash, albeit tense, becomes audible only through kinesthesia and sighs of triumph and/ or defiance.


Bato-bato sa langit,
tamaa'y huwag magalit
Ang mapikon ay pangit
Walang butas ang ____(Filipino proverb)
The drawn curtainsand the mobile corrugated walls reveal a backstage where costumes are placed in crates, labeled and organized for cast traffic in between fragments.
The cast have memorized their lines, did their vocal preps and their warm-up. There is food for those who are too busy at work to even have brews and browns. The musicians assemble the gongs, the guitar, the kulintang, the ukelele, and the piano. The technical staff-cum-lights designers eye the walls and the ceilings for lights installation and video projection; two measure the space for the bleachers and the makeshift stage; one puts up the black curtain to shield the actors from the roving and curious eyes of the viewers. The costumes designer prepares the materials for the cast's various roles. The props master and the assistant stage manager list down minutest details for the ensemble. The choreographer smiles at every passing cast and crew. The assistant director-turned-stage manager quotes the late Philippine National Artist for Theatre, Professor Emeritus Tony Mabesa, "theatre is never democratic so listen to every announcement and listen well". The director feels cold during the early days of the rehearsals and sartorially wraps himself to the neck and ankles, and mercifully, bares his legs amidst Helios' height in July.
Devised theatre begins. Lights. Transition Music. Action.
True to form, devised theatre turns into a collective task, hence democratic; the director, however, infuses autocracy. An embodiment of artistic integrity, the directoradds both modern and postmodern touches yet allows each performer to mount a simulacrum of characters –angry, cold, funny, ritualistic, and self-flagellating:all at the same time. His voice, although soft and reassuring, commands respect for his passion: theatre [teatron, the space and the discipline].
And the cacophony of cast and crew's voices distracts and disturbs one's equanimity.
I don't see Jose Rizal in this script.
Wasn't Rizal an international migrant himself?
There is a Rizal in each of us then.
xxxxx
I think this play is Hegelian.
(The angel of silence hovers, 20 seconds.)
xxxxx
Where is my organza costume? I just put it here. Now it's gone! Somebody must have taken it by mistake!
Not taking care of your costumes is disrespect.
xxxx
Let me introduce you to the Stanislavsky acting method.
Oh no! Another European!
xxxx
There is magic in your movements. Let your bodies feel how trees move when they're about to be felled.
There is resistance?
Then show how your body resists the axe.
xxxx
I am grateful that you allowed yourself to be vulnerable in this space.
xxxx
The director's interpretation of the fiesta fragment is so dark. I did not foresee that. My intention in writing that text is festive, not dark. I didn't see that coming. I am impressed at how the director weaves the concepts of power and power grab in that fragment.
Hmmm. . . Did you expect anything less? He's an MFA and a PhD!
xxxx
Isn't she a natural? We have a star!
I would watch films of the contrabidas like Bella Flores or EtangDischerin the Philippines.
xxxx
Who took the stand fan from the backstage?
Oh! It was moved to the lobby for the audience.
And what about the cast?
xxxx
Food is ready.
Oh great! We're hungry.
(The 30-minute break is never enough; for the cast and crew, breaking bread is also bonding time.)
xxxx
She's so low profile but very talented. The director will ask her to provide the transition music between fragments, and voila! The director nods in approval.
My mother is a Filipina and my father is a Japanese. I feel good that I am given this opportunity to discover my roots. The kundiman sounds so beautiful to me that I want to explore it, too.
xxxx
I feel I belong to this community. The 15-year-old in me cries out for compassion. I came out only last month, and my parents could not accept that. Thank you for making me feel welcome and loved.
xxxx
The young among us should not settle for too much tokenism.
Speak up. Your talents deserve to be recognized beyond tokenism.
xxxx
I'm sorry! It took me a while to say my line but I did not forget it. A piece of pork got stuck in my throat and I needed to swallow it.
Don't worry about it. It happens. How are you feeling now?
I am okay.
xxxxx
I sense a certain degree of self-centeredness.
It must be a stoic style of presenting oneself?
xxxxx
I'll let you borrow this pair of shoes. I can even give it to you if you're kind to me.
Oh! Terms and conditions apply?
No! Just joking.
xxxx
I am humbled by your participation in this project. You are all so great. We should be doing more collaborations to make the Filipino arts and culture shine in North America.
xxxx
The voices remind the hearer of value orientations unique to the Filipinos: pakiramdaman (sensing), pakikipagpalagayang-loob (smooth interpersonal relations, SIR), paggalang (respect), pagtitiwala (trust), pakikisalamuha (collaboration), pagtutulungan (cooperation), pag-unawa (understanding), malasakit (sacrifice), bukas-palad (generosity), pagkamaalalahanin (selflessness), talinong-agap (quick wit),and more. The cerebral also disrupt, and the cast stare in awe at the sacred and the profane.
Void of calculated verbalisms, these offstage remarks display Filipino touches of familial and communal cultures. Forms of irreverence, linguistic or otherwise, they hit home. Irreverence rings loud and clear even in silence.
There is also pride amongthe cast's human-and-social capital. After all, Canada admits only the high and the mighty ala cordon sanitaire. We break that cord. We walk our talk of diversity, equity, inclusion, and justice through our devised theatre.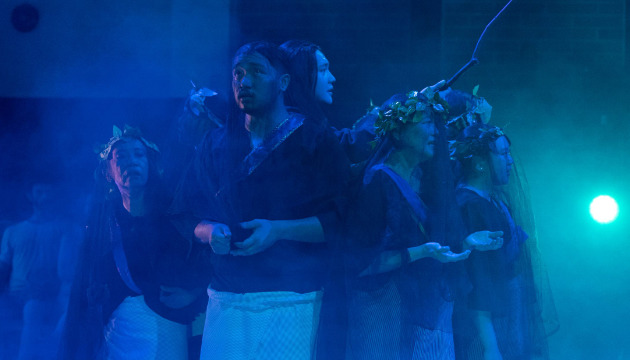 Actor-singer Ted Angelo Ngkaion leads the ensemble (L-R: Nora Angeles, Mariel Olaguer, Oswald Pingol, Ted, Susan Academia-De Guzman, Abi Padilla) in chanting "from the water to the water: sa tubig nagmula, tayo ay babalik" in at least three major Philippine languages, Cebuano, Kapampangan, Tagalog and in one of two Philippine official languages, English. Photo by Yasuhiro Okada.
---
---