Canadian Filipino Net has reported in the past about two brothers who are making a name as ice carvers in Canada.
They are Antonio and Ross Baisas, originally from the wood carving town of Paete in the Philippine province of Laguna.
In 2018, the Baisas brothers won first place in the international ice carving competition at the Boardwalk Ice on Whyte Festival held in the Alberta city of Edmonton.
In 2019, the brothers and their respective spouses won in the first SnowDays International Snow Sculpture Competition held in Banff, also in Alberta.
For 2021, the Baisas are competing in the national ice carving competition of the 43rd Winterlude festival in the National Capital Region.
Winterlude started in 1979 and has since become a flagship winter event in the metropolitan region in and around Ottawa in Ontario and Gatineau, Quebec.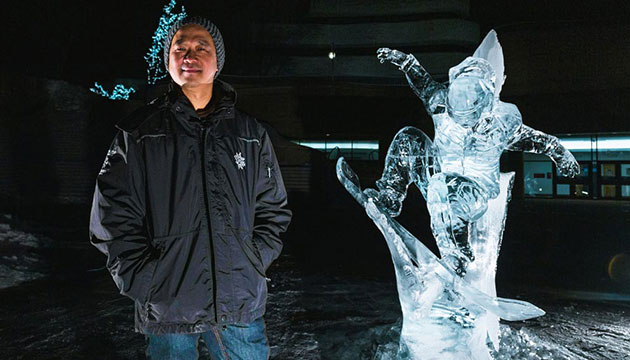 Ross Baisas with his Adrenaline Rush ice sculpture.
Winterlude's ice carving competitions have welcomed artists from around the world since 1985.
Because of the COVID-19 pandemic, the festival is being held virtually from February 5 to February 21.
The ice sculptures are found in different areas of Canada.
People can vote online until February 21 for their choices, and the winners will be announced on February 22.
Antonio Baisas presents his work Pit Stop in Ottawa, which features a boy and a reindeer resting after a long journey in snowy wonder.
Ross Baisas, for his part, made Adrenaline Rush in Gatineau, which features a snowboarder tearing through the snow.
To see the sculptures and vote: https://bit.ly/2Nd6j5C
---