I stand at the sidewalk of a tree-lined street in Victoria, British Columbia, looking up at an old wood frame house, wondering how to find the person I had come to see as I had left my cell phone at home and so could not call. A young girl, Caucasian, comes down the front steps with a bound, and I ask: "Excuse me, is there a Filipino family living in this house?" She tells me to go up a path to the left of the house and knock on the first door.
It turns out the house comprises several housing units in one building. Outside the place she directed me to are a small plastic wagon and plastic toys - it is easy to see a child lives in the unit. When I knock, the door is opened by a woman shorter than I am - which means really short because I am only five foot two. The smell of frying fish wafts from behind her. "Oh Ate," she says, greeting me with the Filipino word for "older sister." "You're early. Can you wait a bit?" I say of course.
From the doorway, I see a dim hallway that seems to lead straight to the kitchen. I don't know if there is a living room or if, apart from the kitchen, all the spaces are used as sleeping areas. The fish cooking makes my mouth water.
I have come to see Ellen (not her real name), to pick up some dinuguan I had ordered from her through Facebook. Dinuguan is a stew made of pork and pig's blood. The description will turn off the uninitiated, but dinuguan (literal meaning: "with blood") is a dish beloved all over the Philippines, and a craving for Filipinos living overseas, like me.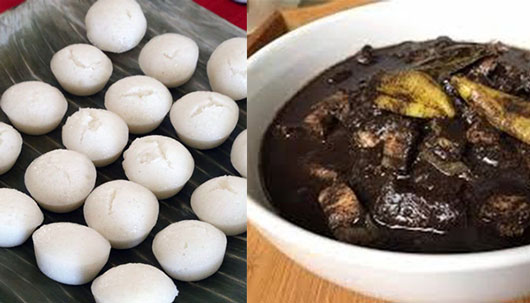 Puto (steamed rice cakes) accompany another Filipino favourite,
dinuguan (blood stew).
Apart from the flavours of the dish, dinuguan can cast a spell because of the memories it conjures. For me, they are memories of my grandmother and her dinuguan, made sour with coconut vinegar and spicy with long green peppers.
Ellen's dinuguan does not disappoint. I have it for dinner that evening and lunch the next day. The dinuguan is but one of the products that have started appearing with more frequency on Facebook in the last few months. These products are advertised on the Facebook marketplace, as well as a page curated by Filipinos in the area. Apart from dinuguan, Ellen is a source of lechon - the quintessential Filipino food for celebrations, roast suckling pig.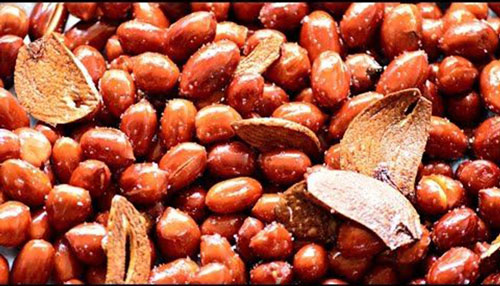 Adobong mani (fried peanuts) is a staple Filipino snack.
When my sister-in-law had a birthday in 2019, I had to call around to ask friends for their lechon contacts. It was not easy to find lechon purveyors online. Since the COVID-19 lockdown of March 2020, Facebook has been flooded with postings advertising lechon and other Filipino foods - like pancit palabok, puto, salabat (ginger tea) and pan de sal. Salted peanuts the way we like them, with fried garlic. It is not only advertisements for Filipino food that are suddenly so plentiful - there are postings for Indian chicken biryani, Pakistani Haleem and Jamaican beef patties. With the closing of restaurants, home kitchens have stepped into the breach.
After I saw the Peanuts posting on Facebook, I messaged Ellen, and she responded with directions for how I could get my order.
After interviewing four people who have satisfied my longing for specific Filipino treats, I found commonalities in the Filipino home-cooking story. The advertisements are posted by a family member who is computer-savvy - the seller herself, a brother, or a husband. All four sellers whom I met are in the health field - nurses and caregivers. In one case, the cooking is done by a mother-in-law, in another case by a husband who has casual employment, and in two cases by the caregivers themselves, cooking on their days off. "Better to do this than sit at home doing nothing," was an oft-repeated refrain.
There are about six cars parked on the side street near the apartment building where Abi (not her real name) lives. I wonder if they are there for the same reason I am. Sure enough, at 4:30 p.m., Abi appears with plastic bags on her arms. In the bags are boxes of leche flan, pan de sal, and Spanish bread that she has made. Each parked car gets a bag or two. As Abi goes from car to car she smiles with a "Salamat po" - thank you with an honorific, expressing respect.
I do not know enough of Canadian laws regarding home-based industries to venture an opinion as to whether Abi and Ellen's cooking is encouraged or disallowed. I leave that to the experts. What I do know is that on most weekends, many families in Victoria with a Filipino family member sit down happily for dinner, partaking of lechon, sisig, karekare, or dinuguan, foods they miss but find too time-consuming or difficult to prepare themselves.
Abi and dozens like her feed not just hungry stomachs, but also hungry souls: souls with a longing for home that is never assuaged, no matter how long the Filipino has been away from his or her home country.
---