Love for food is the common denominator among the 91,000-plus members of "Ifoodala Foodie", a private Facebook group created in Canada. Founded four years ago, the group continues to grow.
This community has evolved from just sharing dinner recipes to taking their love for food to the next level. It has become a digital friendship that proactively cheers each member for their culinary achievement, big or small.
The Ifoodala Foodie members are homecooks, chefs, bakers, entrepreneurs, dreamers and jack-of-all trades. They're Filipino women (and a few men) from all over the world.
Its founder and creator are Canadian Filipino Donna Moreno, a stay-at-home mom based in Surrey, British Columbia.
"I love to share photos of my home cooked meals on Facebook. My friends would always ask me for recipes and tips on where to buy ingredients here in Canada," Moreno remembers how the group started.
It has been 10 years since she and her family moved to Canada from the Philippines. They miss the familiar flavour of Filipino foods.
"I taught myself how to cook and bake, mainly because it's more economical. When we dine out or buy anything ready-to-eat, everything seemed so expensive. So, I tried to recreate restaurant menus at home at a fraction of the price and share whatever learning I had with the members," Moreno said.
Sharing recipes with other members is the foremost activity in the Ifoodala Foodie group. Moreover, it has become a marketplace for homemade food and can easily sell to anyone who wants it. However, getting inspiration on what to cook for dinner or birthday parties and learning how to perfect a crispy spring roll or whip up a gourmet meal are the things that make each member constantly check the feed and react to posts.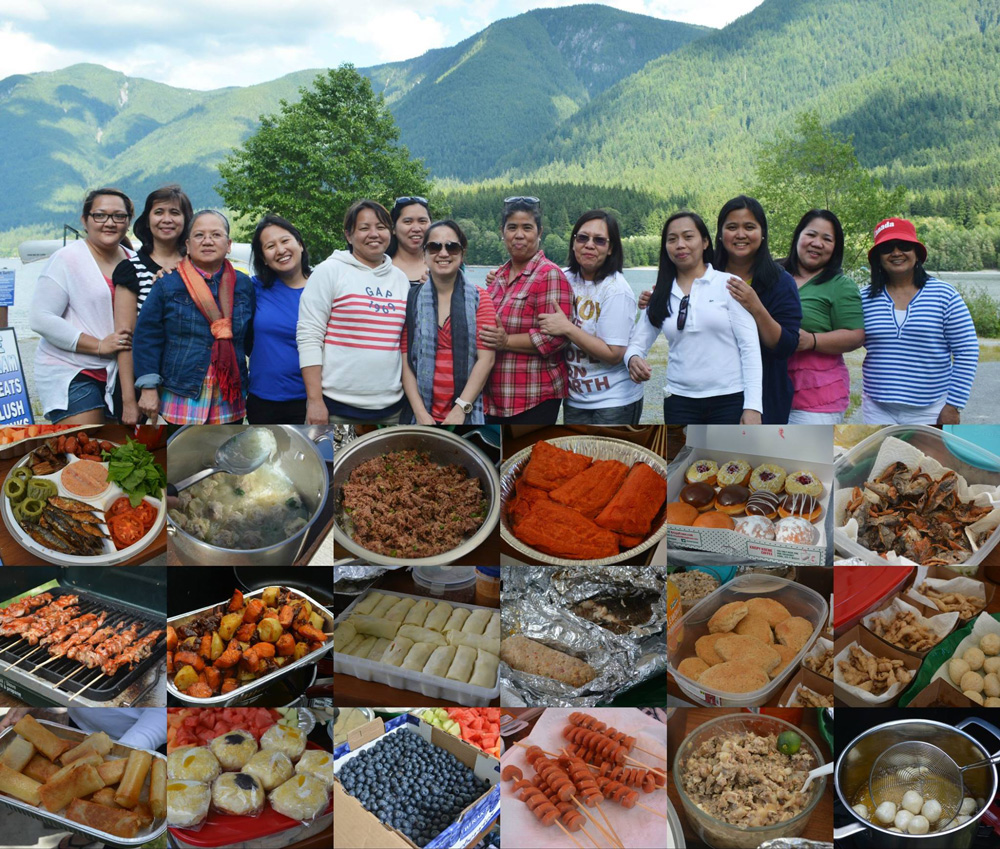 "I am proud to say that our little community has grown to more than 91,000 strong Filipino food enthusiasts with almost 1,200 members from Canada who never get tired of sharing deliciousness and spreading happiness all around," Moreno said.
Moreno believes that anybody can cook and should not feel discouraged about failing.
"Life can be sweet, sometimes sour just like a mango. Cook, bake, make mistakes but try again."
Moreno is a proud wife to Greg, and mom to Gabriel, Marcus, and Alex.
"I cook with my heart. I feel my ingredients, I respect them, I thank them. In my mind, I ask them to taste good for me, and they almost always do," Moreno said.
Moreno loves cooking so much that she shares her recipes so others can have "that same feeling of happiness I get when I feed my family and friends and their hearts and tummies are satisfied".
Below is Moreno's recipe for chiffon cake with whipped cream and fresh mango filling with mango puree topping.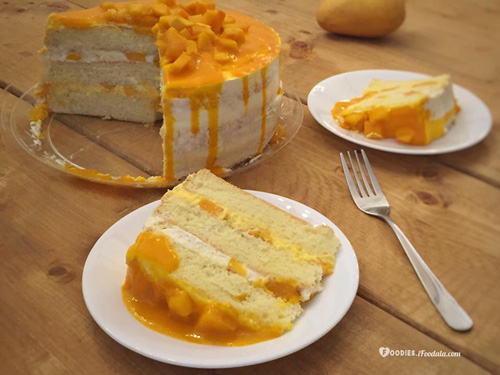 Mangoes and Cream Cake
Chiffon Base Recipe:
Dry ingredients:
2 cups cake flour
1/3 cup sugar
2 tsp baking powder
1 tsp salt
Wet Ingredients:
6 medium egg yolks (5 large)
3/4 cup water
1/2 cup vegetable oil
2 tsps vanilla (or flavoring of choice)
Meringue
9 egg whites
1/2 tsp cream of tartar
1/3 cup sugar
Procedure:
1. Preheat oven to 325F
2. Prepare pans by lining bottom with parchment paper. Do not grease.
3. Combine and sift dry ingredients. Set aside.
4. In another bowl, combine wet ingredients. Mix until combined.
5. Add dry to wet ingredients.
6. In another clean bowl, make meringue by beating the cream of tartar and eggwhites. Once foam starts to form, add the sugar a tbsps at a time. Beat until stiff and glossy but not dry.
7. Fold the meringue in the batter mixture.
8. Pour in prepared pans.
Bake for 23-25 minutes for 8" pan (makes 3 pans)
Bake for 32-35 for 9"x 13" pan.
Mango Puree
2 ripe mangoes, peeled and pitted
2 tbsp sugar
4 tbsp water
1 tsp fresh lemon juice
1 tsp clear gelatin (Knox)
Dissolve gelatin in 1 tbsp cold water. Let gelatin bloom for five minutes.
Microwave at 15 second bursts until the gelatin is dissolved. Set aside.
Put the rest of the ingredients in a blender and puree. You could strain or use asieve to remove pulps if there are any.
Mix in the gelatin to the puree. Pour on top of the cake.
---
---