In 1992, Liza Agbanlog and her family arrived in Canada bringing with them a whole lot of Filipino food memories.
Tasked with feeding her family with foods they have grown up with in the Philippines, it wasn't easy at first for the mother of three young kids to serve authentic Filipino meals as ingredients unique to Filipino cooking weren't readily available in Canada. But she has learned how to adapt well-loved recipes to use ingredients that are available, shared those recipes through a blog and, just this year, published a cookbook.
Agbanlog tells Canadian Filipino Net: "I started my blog www.salu-salo.com in June 2012 to archive the many recipes and cooking styles I had accumulated over my lifetime. To my amazement, the blog surpassed what I had initially set out to do."
Her book, Quintessential Filipino Cooking, is a compilation of 75 classic and modern Filipino recipes she has collected over 25 years. She explained, "The recipes are divided into chapters ranging from meats, seafood, rice and noodles, vegetables, soups, desserts, snacks and dipping sauces. The dishes in the cookbook are easy to make, use accessible ingredients and are full of flavour."
Page Street Publishing approached her in 2017 convincing her to write the book. "At first, I was a little bit hesitant because I knew it would require a lot of time and hard work. Working a full-time job, running this blog and taking care of my family was already a lot for me to deal with," Agbanlog recalls. "Together (with Page Street Publishing), we thought that a cookbook would be a good way to share staple Filipino recipes with a wide audience." So with the help of family and friends, Agbanlog developed and tested recipes for the book.
Thinking of the traditional media noche spread that every Filipino household prepares to welcome the new year, Agbanlog recommends serving the Pineapple Glazed Ham as main dish, with pancit (fried noodles), pan de sal (bread rolls), lumpiang shanghai (fried spring rolls) and leche flan (steamed custard with caramel syrup) for dessert. Agbanlog highlights pancit to signify "long life and prosperity for the coming new year" and pan de sal as it goes well with ham and pancit (for Filipinos, pan de sal sandwich with leftover ham would easily beat the leftover turkey sandwich).
Below, Agbanlog shares with Canadian Filipino Net readers her recipe for Pineapple Glazed Ham.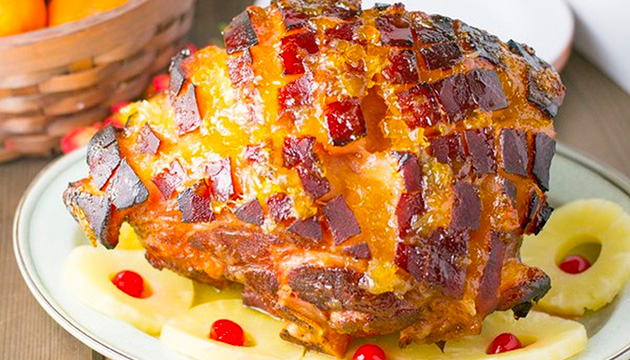 Pineapple Glazed Ham
Ingredients

8 lbs bone-in ham
8 cups pineapple juice
1 cup brown sugar
1 cup water
1 cup pineapple jam

Instructions
In a bowl, dissolve brown sugar in water. Pour in a large stockpot together with the ham and pineapple juice. Make sure ham is fully submerged in juice, add more juice or water if needed.
Bring to a boil, lower heat and cook for 1 hour. Set aside to cool.
Transfer ham in a roasting pan, score skin and fat into diamond shapes. Spread pineapple jam all around the ham.
Bake ham uncovered at pre-heated 400°F oven for 40 minutes or until well browned, basting once with juice from the bottom of the pan.
Let ham stand covered for 15 minutes before carving. Enjoy!
---
---