When people ask me what I do for a living, rarely is it understood what I do as a wine sommelier/enogastronomist.
A month ago though, I had the opportunity to deliver an economic strategy presentation based on food and wine tourism to some of our senators and members of the House of Representatives in the Philippines. I felt I accomplished one of the most compelling tasks in my career so far. I took advantage of the opportunity to talk about the current state of the Filipino community in Canada, particularly emphasizing on the many brilliant Filipino organizations and enterprises that are significant contributors to the vibrancy of our community. During this meeting, I also introduced our Pinoylicious Food Movement—a movement whose aim is to promote Philippine regional cuisine globally.
I first launched Pinoylicious at the Wine2Wine event in Verona, Italy last December 2016.In front of the world's key players in the food and wine industry, I talked about the diversity of our archipelago which deliciously translates to our regional cuisine. I challenged them to bring their wines to the Philippines as we have an array of complex dishes that are "wine-worthy".
I believe that a new wine industry can encourage a new breed of both tourists and investors coming to the Philippines. I warned them not to miss on great business opportunities in a country of over 110 million people. That particular introduction caused a surge of food and wine investors who became interested to launch businesses in the Philippines, hence I re-settled in the Philippines last January 2017.
I have started the arduous task of introducing the concept of enogastronomy to the government in an effort to bring serious wine investments into the country. Needless to say, the European launch of Pinoylicious was a huge success. However, there remains more work to be done.
Pinoylicious Food Movement is a well-structured 365-day initiative that will utilizes both traditional and multi-media formats in its promotion of Philippine regions and its cuisine. One of its main goals is to showcase our local Filipino restaurants—which are the true frontliners in terms of promoting what Philippine cuisine has to offer. The world is able to experience our Philippine cuisine through the local Filipino restaurants that work very hard to source ingredients and prepare Filipino dishes based on what ingredients are available to them.
It is very important that local Filipino restaurants maintain high quality of food service and a degree of authenticity. It is essential that when they operate, they are able to keep up with current industry standards. It is sad when a Filipino restaurant has no sense of identity --when it has no sense of place. But even worse is when it feels no pressure in terms of improving their standards under the notion that we only cater/sell to each other.Many Filipinos still believe that Philippine cuisine is still far from being mainstream. We have to correct that mentality now.
Pinoylicious delivers the challenge to our local Filipino restaurants – a challenge for them to be imbued by quality-rated restaurants all over the world whose daily operations are committed to excellent standards of food service and quality. The reality is that we now deal with a more serious group of consumers, gourmands and connoisseurs, foodie and bloggers, people who are social media-oriented, consumers who have high expectations of quality but are also experience-focused and generally are fascinated with "insta-worthy"products.
One inspiring young restaurateur is Jonald Quinto, owner of Kabalen Restaurant, which is located at the intersection of Bathurst and Wilson in Toronto (commonly referred to either as Filtown or Little Manila). Jonald is considered a passionate preserver of traditional Kapampangan cuisine in Canada. Right at his tiny restaurant, guests enjoy authentic Kapampangan cuisine experience. (Let me say this, even when compared to some authentic Kapampangan restaurants based in the Philippines, Kabalen is superior.)There you will find an array of classic Kapampangan dishes prepared deliciously fresh and priced reasonably. But as successful as the formula is for Kabalen,Jonald faces the usual challenge of sourcing the right ingredients to ensure authenticity of the dishes. It is his daily struggle—a business decision he commits to daily to ensure he remains true to what Kapampangan cuisine is all about. Of course he does so excellently with the classics.
You'll find his versions of karekare, dinuguan, beef salpicao, chicken inasal, caldereta, pansit, bulalo, pork barbecue and seafood dishes far better in quality compared to other Filipino fastfoods all over GTA. But then there are also days when Jonald is more than about making money for the day. At times,he is too courageous taking risks serving dishes not necessarily with mass appeal but carries a bold statement. One weekend, I had a delightful experience snacking on fried frog legs.Where can you find this elsewhere in Toronto? That afternoon, many of my Kapampangan friends rushed to get to Kabalen and were very happy at the end of the day.
On March 24, 2017, at the York Mills Gallery2-- Jonald with his Kabalen crew will be one of the five teams which will accept the challenge of preparing a five-course dinner for the guests of the Pinoylicious launch. The event will be attended by key players in the food and wine industry–quite a controlled guest list that will include people in the food and wine industry who can talk about and promote Philippine cuisine even after the launch. When we say we want to push Philippine cuisine to the mainstream, we have to elevate our standards first.
I am excited that like Jonald Quinto of Kabalen, we have frontliners in the Filipino food movement who are really making waves and who have committed to joining me on our Pinoylicious initiatives. The list is "star-studded". We have Chef Dan Cancino of Lamesa Filipino Kitchen, Chef Diona of Tita Flips & Kanto, Mel Galeon of FV Foods, and Mila Nabor Cauchon, president and creative director of Casa Manila.
Enogastronomic tourism is a segment of tourism we shall be able to utilize to our advantage. This formula has never been done before within the context of Philippine tourism but now is the ideal time to introduce it. As an enogastronomist in Italy, I have seen its capacity to build new businesses, create more job opportunities and improve the country's economy in general. Promoting Pinoylicious Food Movement here in Canada will push our enogastronomic potential.
Should you wish to support and learn more about the Pinoylicious Food Movement, please call (416) 929-5876 or e-mail This email address is being protected from spambots. You need JavaScript enabled to view it.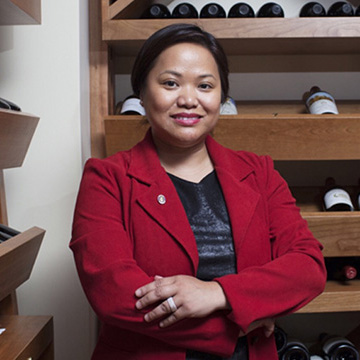 ---