Dual Citizen (https://dualcitizen.ca/) is a digital mini-documentary series that explores the inner monologues, uphill battles and eureka moments of the Filipino diaspora.

Through conversations with community leaders, artists, entrepreneurs, and educators, the series aims to explore the power that comes from embracing being 100% Filipino and 100% Canadian and how this translates to their creative and community work.
For the series' inaugural feature, Toronto-based artist Han Han (https://www.hanhanmusic.com/) discusses using language as resistance against assimilation, borrowing gong culture, Indigenous allyship, among other themes surrounding identity and belonging.
"In the Philippines, you know that Indigenous communities are so invisible. In everything. And that's why we incorporated traditional instruments into the music—to give it space," she says about using the kulintang in her sonic creations and visual collaborations.
The registered nurse and internationally acclaimed poet and rapper is big on collaborations. The music video for her song 'World Gong Crazy' was performed alongside DATU (https://www.datumusic.com/) )and HATAW (https://www.facebook.com/hatawto/) —​two art collectives from Toronto.
The Cebuano-Tagalog-English hit was what catapulted Han Han out of the local Toronto scene and into the global stage when it was nominated for best song at the 2017 Berlin Music Video Awards.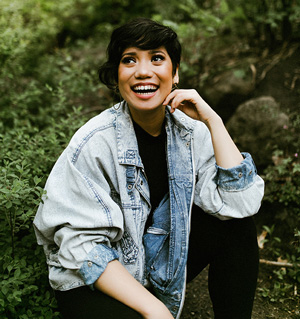 Marie Alcober is a Filipino-Canadian journalist and the director/producer of Dual Citizen. Her reporting has been featured in BNN Bloomberg, The Globe and Mail, CBC News, CTV News, The Edmonton Journal and radio stations across Canada. In 2014, she was the lead researcher and co-producer of Stigma Is A Drag, a short documentary chronicling the lives of local drag performers leading up to World Pride Day in Toronto. Details: www.mariealcober.com
---