(Editor's note: Planning a trip to Manila in pandemic? In addition to the 15-to -18 hour flying time, you should also plan on spending two to three hours going through a pandemic-driven reception for arrivals at the Ninoy Aquino International Airport in Manila.
In addition, plan also on spending 10 days in a quarantine hotel, even if you are fully vaccinated, if you are coming from what the Philippines considers not a "green" or safe country such as the United States. Here's a step-by-step account of a traveler's return to Manila – as experienced by Jaime and Ana FlorCruz from Los Angeles to Manila.)
After staying in New York for six weeks (late April to early June) and in Los Angeles through early July, we decided to go back home on July 11.
Our journey home from Los Angeles started at Philippine Airlines (PAL) check in counter at LAX's Tom Bradley International Terminal. Forewarned of possible delays and a long walk to the boarding gate, we opted to check in four hours before the midnight departure time.
After lining up for 15 minutes, we got to the front of the line, a PAL staff checked our temperature and ushered us into one of the check-in counters.
We were asked to hand in our passports and to show on our mobile phone the Electronic Case Investigation Form (e-CIF) which comes with our unique QR code. We got this from PAL electronically a day earlier after we completed its required online registration. Soon we were issued boarding passes and luggage tags. The check-in process took us about 30 minutes.
Boarding was orderly, done in groups. Passengers were required to wear masks in the airport; once boarded we were asked to wear face shields as well. PAL offered free face shields for those without one. The plane, about 85% full, took off just past midnight.
PAL staff wearing PPEs, face masks and shields served food and drinks a few times throughout the 15-hour flight.
In the last hour of our flight, PAL staff handed out four forms for passengers to fill out: 1) the usual immigration form 2) the usual customs declaration form (one per family) 3) yellow health declaration card for contact tracing and 4) "One-Stop-Shop Management of Returning Overseas Filipino (MROF)" form, a "Passengers Undertaking" in which we commit to following rules and protocols.
Soon after we landed at 5:48 am, a plane steward read over the PA an advisory on required protocols to follow before and after disembarking.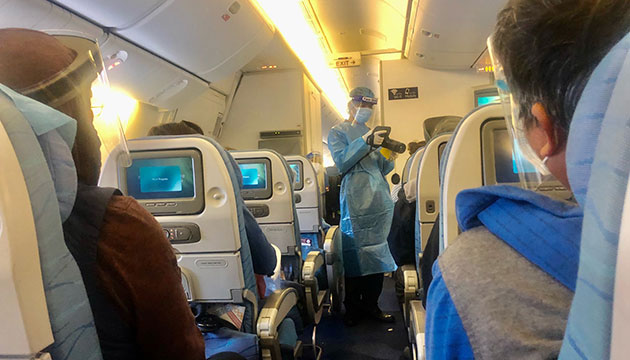 Temperature checks are taken inside the plane.
Soon, at 6:16 am, four bureau of quarantine staffers conducted temperature checks of all passengers, row by row. They also collected the yellow forms, closely looking at details.
Before we disembarked, a Philippine Coast guard officer and a bureau of quarantine staff gave a briefing over the PA on protocols.
Coast Guard clearance to disembark came at 6:33 am.
The subsequent process was a bit tedious but orderly. Passengers were immediately segregated into sections or groups. OFWs were ushered into a separate section; the rest were funnelled into various channels: one for those vaccinated in the Philippines; one for passengers who got vaccinated in "green-zone countries;" and two or three channels for those who booked in various quarantine hotels.
Passengers queued up while seated in the airport lounge, with social distancing on a first come, first-served basis. Several coast guard soldiers, PAL and airport employees supervised and assisted passengers.
We had to go through two desks: 1) Department of Health (DOH) staffer who verified all our documents (passports, QR code, quarantine hotel reservations) 2) another staff who checked passports and boarding passes and accepted advance payment for the RT-PCR test that is required on the seventh day of hotel quarantine. The cost of 3,500 pesos per person (2,800 for seniors) could be paid by cash or credit card. There were several desks and booths open so many passengers were served simultaneously.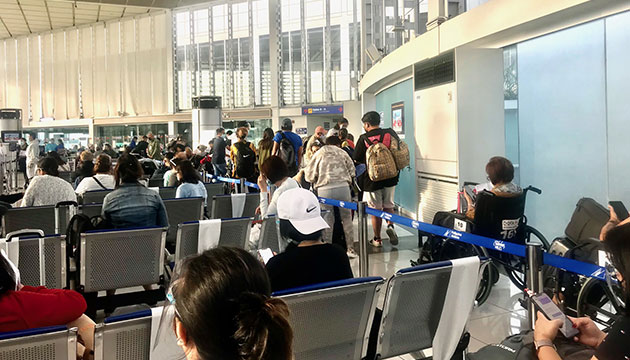 Travellers line up for verification by the Department of Health.
From there, at 7:20 am, we proceeded to the immigration counter and, at 7:22 am to luggage claim.
Before stepping out of the airport at 7:25 am, a coast guard officer made a final check of our "One-Stop-Shop MROF" form.
Walking past customs check, the final segment, the officer did not even bother to collect our Customs Declaration Form.
At 7:38 am, our airport pickup arranged through quarantine hotel arrived to take us to the quarantine hotel.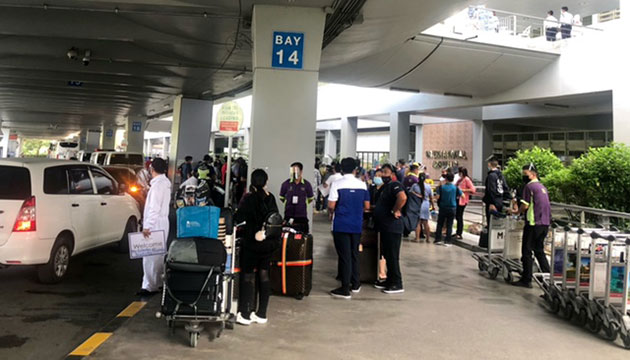 Arrivals wait to be picked up for their quarantine hotels.
Quarantine protocols may differ, depending on one's port of origin, and country where the passengers got vaccinated, etc. In our case, it was seven days in one of the designated quarantine hotels that we chose, plus three days in-home quarantine if the NT-PCR test conducted on the seventh day turns out negative.
---
---