March 1, 2023 – A dragon or a dinosaur? Jesse is neither. But what he is, is a good friend to Oyster Ray, Octopus Faye, Jellyfish Vance, Starfish Nance, Whaleshark Pat, and Turtle Matt. And that, for Jesse, is enough—and more than enough.
Jesse the Dragosaur, the joyously illustrated first children's book by Vancouver artist and author Danvic Briones is certain to ignite children's imagination. Jesse, the titular character, swims in a wondrous turquoise sea full of creatures brought to life by Briones' confident, masterful artwork.
The book is more than the art, brilliant though it may be. The story strikes a chord amongst anyone—child or adult—who has ever struggled with a crisis of identity or belonging. The message may resonate particularly with 1.5 and second generation Filipinos who grapple with their Filipino identity as Canadians.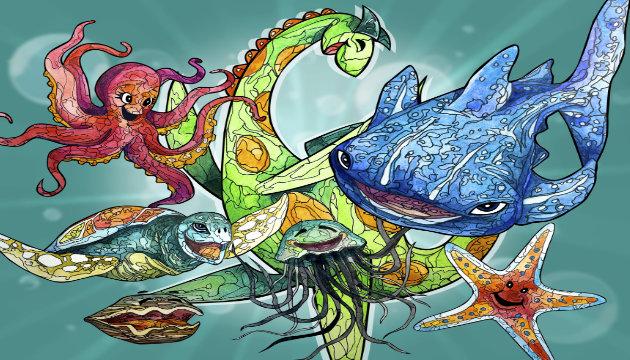 Jesse utters the ultimate ode to self-growth when he discovers that, "It does not matter what Jesse is, Jesse is proud of what Jesse is." Above all else, this is a story about believing in one's self and Briones tells it in deceptively simple language that he wields as adeptly as he commands paint and palette. Children, those young and the young-at-heart, will definitely be captivated.
Jesse the Dragosau is available at Amazon.com and Amazon.ca

About the author:
Danvic Briones discovered his love and talent in the arts when he drew an elephant at the age of 6 which led him to pursue a bachelor's degree in Fine Arts and an expressive arts therapy diploma. He has held several exhibitions in Asia, the United States and Canada. His Canadian experience in working with vulnerable youth inspired him to write and illustrate a children's book to encourage children to hold their heads up and believe in themselves.
Danvic loves water sports, cooking, and playing scrabble with his wife Melissa. He lives in British Columbia with his lawyer wife (who dotes on him) and his two smart-alecky children (who keeps him on his toes).
For additional information or media inquiries, contact This email address is being protected from spambots. You need JavaScript enabled to view it. or go to www.artbydanvic.com.
---