Baisas brothers Antonio of Ottawa and Ross of Gatineau dominated Winterlude's first ever virtual national ice-carving competition. The competition held virtually with participating ice sculptors located in seven cities in Canada, closed with almost 30,000 online votes on February 21 with winners announced the next day.
Antonio won top prize with his creation Pit Stop, featuring lifelong friends, a boy and a reindeer, resting from pulling a sleigh after a long journey. Ross took second prize with Adrenaline Rush showing a snowboarder skidding seemingly in mid-air on a plume of snow. Antonio, on his Facebook page, thanked Winterlude's organizers, friends and family, and "of course my fellow Filipinos all over the world!"
The brothers, originally from the wood carving town of Paete in the Philippine province of Laguna, have been making waves in ice-carving competitions across Canada including the international ice carving competition at the Boardwalk Ice on Whyte Festival held in Edmonton, and the first SnowDays International Snow Sculpture Competition held in Banff, both in Alberta. They have also won international competitions in France, Poland and the U.S.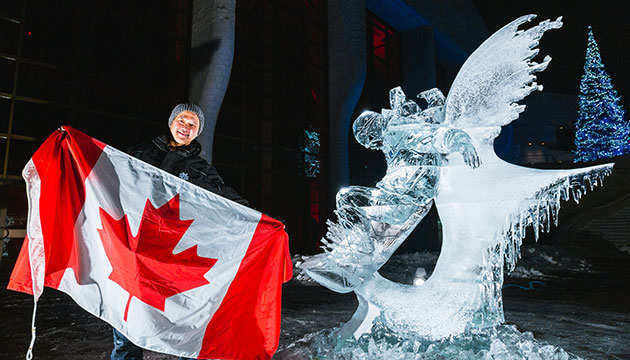 Ross Baisas took second prize with a snowboarder seemingly caught in mid-air in Adrenaline Rush.
Antonio came to Canada in 1996, while Ross followed in 2002. They started out by carving vegetables while working at hotels in Quebec before honing their craft on ice.
In Winterlude, the brothers competed with five other finalists including Joel Palmer of Halifax who took the third spot with Surfing the North, featuring a surfer on winter storm waves.
Each finalist had 28 hours to transform eight blocks of ice into a work of art on the theme of the joys of winter. Winterlude has held ice-carving competitions since 1985.
---