When a city-life Toronto magazine asked top chefs to rate the best takeout and delivery restaurants in 2020, one Canadian Filipino establishment measured up.
Saints Island Pies made it to the list compiled and published on December 26, 2020 by the online-only trnto.com.
The restaurant offers Detroit-style deep-dish pizzas with Filipino-inspired toppings.
Owned by Chuck Ortiz and Sean Santos, Saints Island Pies opened a shop at 1665 Dundas Street West after a series of successful pop-ups last summer.
It offers five types of pizza, and one that is getting a lot of attention is Bespren Longanizza, a play on the term 'best friend' and the Filipino sausage longanisa.
"Inspired by our favourite breakfasts, it's topped with roasted onions, Longanisa sausage, fried egg, special sauce, and cheese," the establishment's menu reads.
Another is Plantation Pie, clearly inspired by the migration of Filipino farm workers to Hawaii.
"Take a bite out of history with this hapa pie, it's topped with our Signature Sauce, Roasted Onion, Smokey Achuete Marinated Shaved Pork Shoulder, Pineapple, Patis Caramel and Herbs," its menu declares.
Then there's the Tinapa Papa, after another favourite Filipino breakfast fare, tinapa or smoked fish.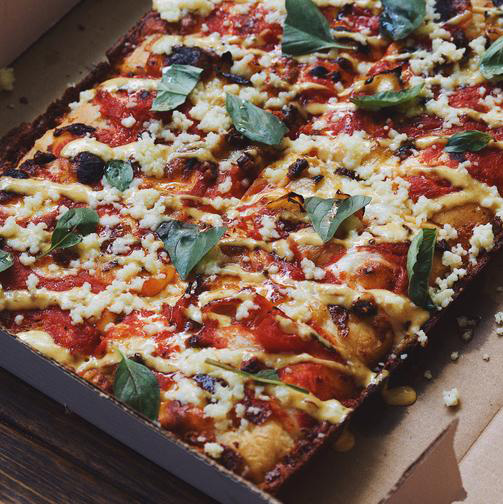 Tinapa Papa is inspired by Filipino smoked fish.
"This pie captures the provincial flavours with a new twist," according to the menu. "Get in on this tasty adventure with our Signature Sauce, roasted onion, smoked sardine, cotija, cheese, roasted garlic and citrus dressing."
Lola Pie is a play on lola, the Tagalog word for grandmother. The vegetarian pizza is a "new take on an old classic…topped with our Signature Sauce, coconut cream, herbs".
Finally, there's Maanghang Puti or spicy white pie. It's made with "red shishito, Serrano chillies and pickled red cherry chillies, ginger, water spinach and coconut milk".
Sides include Adobo Wings, adobo being one of the iconic dishes in the Philippines.
Clients can also order Badong's Spaghetti, the place's own take on a pasta dish that has been reinterpreted by Filipinos in so many ways.
NOW magazine of Toronto on November 24, 2020 noted in a report that a lot of stuff at the establishment is a play on something.
Even the name Saints Island Pies is a riff of the name of co-owner Sean Santos. Santo is Tagalog for saint.
In the December 26, 2020 post by trnto.com, chef Adrian Forte of the Carribean restaurant Yawd said that Saints Island Pies is "extremely special because of the bold flavours of pizzas along with the unique selections of toppings".
The publication had its own take about the place, noting that the "island pies" have a "thick crust and crispy edges, similar to Detroit-style pizza".
"The pies' texture and flavour profile, however, is unique, thanks to a rice flour dough and a signature sauce made with chili, garlic, lemongrass and roasted onions," the publication noted.
For more details: https://saintsislandpies.com/
---