Canada's Minister of Agriculture and Agri-Food Marie-Claude Bibeau met with officials from the Philippine Department of Agriculture in late September to discuss increased cooperation, expanded trade and investment and promotion of Canadian agri-food products and solutions.
Over the course of her two-days visit on September 25 and 26, Bibeau engaged with government officials, business leaders, civil society groups and other stakeholders in the agriculture sector.
"In recent years, Canada and the Philippines have enjoyed a healthy trading relationship for agri-food and seafood," said Bibeau. "Canada kept its borders open during the pandemic and continuously exported quality food and feed products that supplemented both our domestic food production industries and contribute to global food security."
According to the Canadian embassy in the Philippines, the Philippines is Canada's second largest agri-food and seafood export market in the Southeast Asian region. In 2021, Canada's exports to the Philippines grew by over 64 percent from 2020 constituting about 35 percent of Canada's total exports to the Philippines.
Bibeau added, "We are committed to elevate this relationship even further and to explore ways Canada can contribute to the Philippines' agri-food sector by being a reliable partner on food security."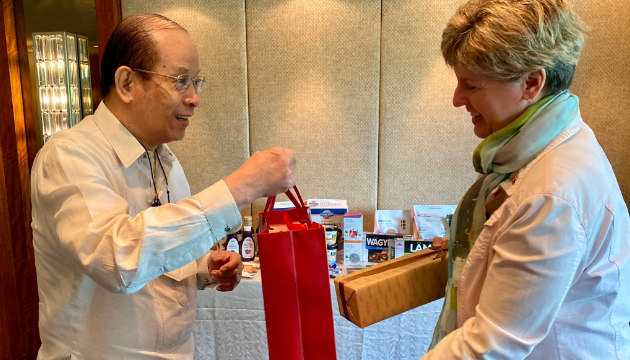 Minister Bibeau receives a gift from the Philippines' Agriculture Senior Undersecretary Domingo Panganiban.
During her trip to the Philippines, Bibeau also met with local meat importers and other agri-food importers in retail, flour milling and wheat. She also visited the first Tim Horton's restaurant in Taguig.
The Philippines' agri-food exports to Canada include coconuts, pineapples, dried mangoes and processed food.
Philippine President Ferdinand Marcos Jr. is concurrently the acting secretary of the country's Department of Agriculture.
---