Canadian Filipino Net, the online-only publication of nonprofit Maple Bamboo Network Society, marked the end of its fifth fiscal year with record numbers.
For fiscal year July 2020 to June 2021, the publication generated 5,271,251 hits.
This represents the highest number of hits since Canadian Filipino Net started in 2016.
For its first fiscal year, July 2016 to June 2017, the site garnered 1,419,987 hits.
In the July 2019 to June 2020 fiscal year, Canadian Filipino Net generated 4,161,377 hits.
The site is also strengthening its presence on social media.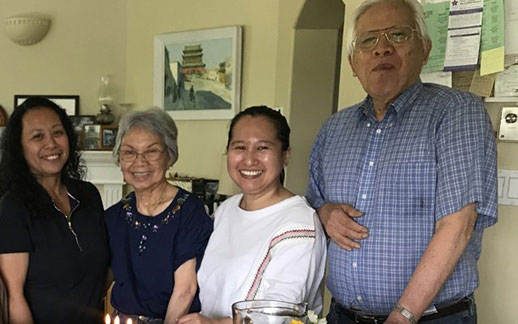 Volunteers like (from left) Arlene Wright, Eleanor Laquian, Emmy Buccat, and Aprodicio Laquian produce the biweekly edition of Canadian Filipino Net.
On Facebook, the publication has 1,461 friends, marking another annual increase.
On Twitter, Canadian Filipino Net is being tracked by 344 followers.
On Instagram, the site has 251 followers.
Canadian Filipino Net is being followed on social media by figures like Peter James MacArthur, who is Canada's ambassador to the Philippines.
Gwendolyn "Wendy" Yip, who holds the title of University Ambassador for UBC, is also a follower. She is the wife of UBC president Santa Ono.
In mainstream media, Faith Fundal of CBC is also a follower of the site.
Speaking about Fundal, the journalist was featured by Canadian Filipino Net in a September 2020 profile piece by contributor Joseph Planta.
The article about Fundal was one of the top read stories on the site for the 2020-2021 fiscal year.
Maple Bamboo Network Society and Canadian Filipino Net are run by volunteers.
The nonprofit and its publication seek to raise the profile of Filipinos in Canada by providing news and views about Canadian Filipino communities across the country.
The Philippines has become the top source country for recent immigrants to Canada.
Maple Bamboo Network Society held its annual general meeting on June 27, 2021.
---