Every night at 7 on the dot, a noise barrage erupts in Vancouver and vicinities as a grateful population shows its gratitude to frontline workers who are risking their lives to make it safe for everyone. All employees whose jobs have been deemed essential have to continue working in pandemic to provide their necessary services to those who need them. These frontline workers are the modern-day heroes in this Covid-19 lockdown.
There are many frontline workers who keep people safe, fed, healthy and secure - the RCMP, firemen, first responders, health care workers in clinics and hospitals, priests and religious leaders in churches, temples and synagogues, grocery workers, bankers, restaurant owners, shopkeepers, post office workers, truckers who bring needed supplies to fill up grocery shelves, volunteers in food banks and other charitable institutions like Meals on Wheels which delivers 1,250 meals daily, Monday to Friday, to homebound seniors in need of help, with the help of more than 100 volunteer drivers-meal deliverers in Richmond and Vancouver.
CanadianFilipino.Net (CFNet) is the only nationwide twice a month online magazine for and about Filipinos in Canada. Its main office is in Hampton Place, one of 10 UBC residential compounds. The UBC residential area is not part of Vancouver. It is Canada's largest community without a municipal government. UBC residents jokingly refer to themselves as belonging to the Undemocratic Republic of UBC. Their University Neighbourhood Association manages and provides needed services. The current population of 15,000 is expected to increase to 20,000+ after UBC completes its planned development of 10 more highrise condos on the edge of Pacific Spirit Forest and Park. )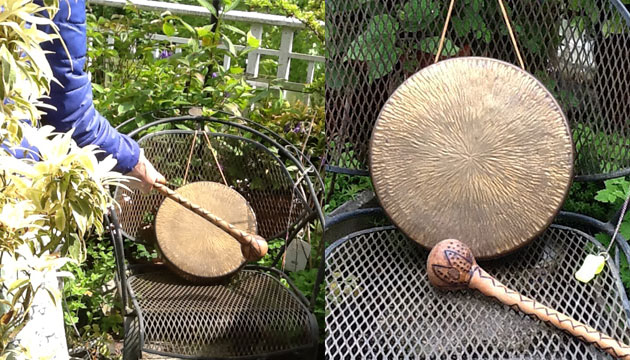 Eleanor's noisemakers include an antique gong from the Philippines, a handmade Fijian tribal head buster (much like a modern cop's billy club) and a whistle. .
Last month, CFNet editor Eleanor Laquian organized her friends and neighbours among the 1,500 permanent residents at UBC to join the Vancouver grateful noisemakers. Her friends and neighboours then asked their own friends to join. The snowball effect resulted in a cacophony of grateful sounds every evening sharply at 7. It usually starts with a single noisemaker which is quickly joined by other pot bangers until the whole neighbourhood comes alive with heartwarming sounds. Even drivers passing by honk their horns to add to the noise.
In its May 16th newsletter, CanadianFilipino.Net asked all its readers to join this grateful noise barrage at 7 pm. Many of these frontline workers are Canadian Filipinos because Canadian Statistics shows that most Filipino immigrants are employed in low level but essential jobs like grocery shelves-stockers, sales clerks and cashiers, truck drivers, med technicians, nurses, healthcare providers and caregivers.
Every evening at 7, grateful UBC residents go outside or to their decks and balconies and bang pots and pans, blow whistles, beat makeshift drums, clap hands, shout, make any kind of noise - the louder, the better - for about 3 to 5 minutes to show our appreciation and thanks to frontline workers. Their grateful noise gets stronger every night as more and more residents join this nightly show of gratitude and appreciation.
---