Overseas voting for the Philippine national elections in Canada is not quite in full swing. Although the official start of overseas voting according to the Commission on Elections (COMELEC) started on April 10, the Philippine Embassy in Ottawa reports that as of Monday, April 11, it has not yet received ballots from the COMELEC headquarters in the Philippines.
However, the consulate offices in Vancouver (which serves British Columbia, Yukon, and Northwest Territories) and Toronto (serving the Greater Toronto Area, Western Ontario and Manitoba) both report receiving the allotted ballots and have either mailed out or are preparing to mail out the mailing the election packets for registered voters for the 2022 national elections as of press time.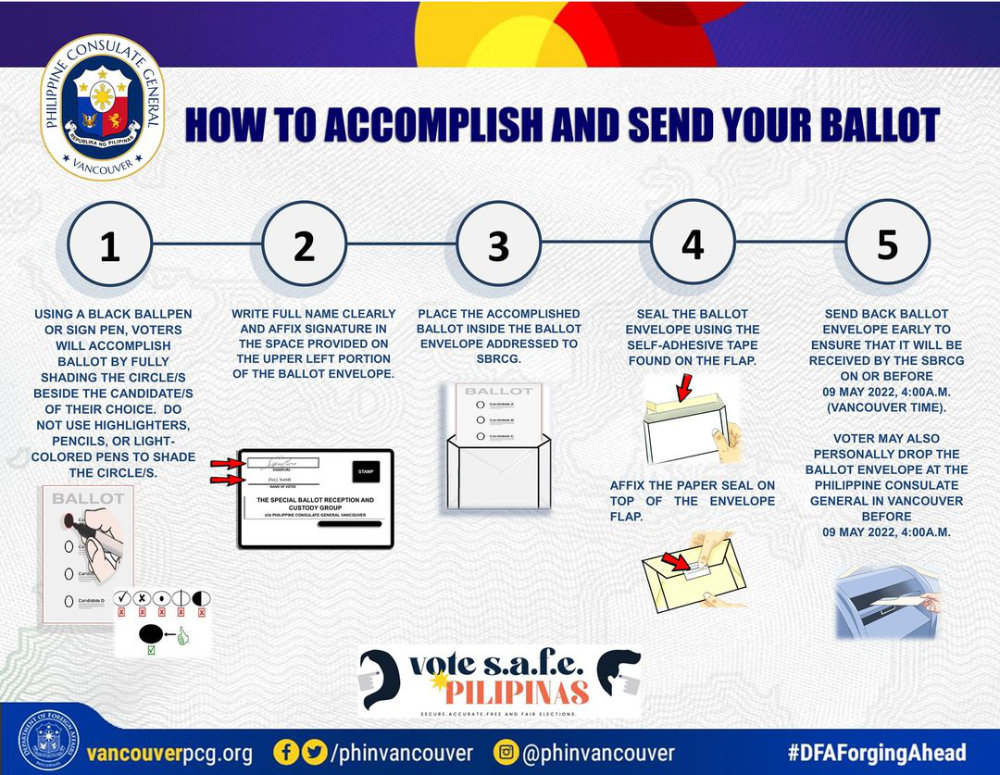 Election packets contain the official ballot, ballot envelope, paper seal and instructions to voters.
According to the website, the consulate office in Toronto already sent out a total of 800 election packets. Pick-up and drop-off of ballot packets at the Vancouver consular services office are available until May 9 by contacting 1-778-706-0280. Calgary's consulate services office, which serves the provinces of Alberta and Saskatchewan, has not confirmed receipt of the ballots.
On April 8, COMELEC spokesperson James Jimenez announced that ballots will be arriving after April 10 to foreign posts as seen in his response on Twitter to concerned registered voters in the US.
Migrante Canada expressed concerns over the delay, noting"The Filipino community in Canada has repeatedly raised the alarm on potential voter disenfranchisement in this elections and in previous ones due to the lack of systematic coordination. With the slashing of OAV (Overseas Absentee Voting) funds by the Department of Budget and Management (DBM), many have anticipated this to take place."
The organization stressed that "overseas voters WANT TO VOTE and VOTE ON TIME … (and) want clean and honest elections."
According to the Philippine Daily Inquirer, absentee voting for Filipinos overseas was off to a bad start, described as "chaotic and disorganized" on the first day on Sunday in Hong Kong and delayed in North America as the ballots and other election paraphernalia from Manila got stalled in transit in Alaska.
The Commission on Elections (Comelec) said the start of the month long overseas absentee voting in five Philippine foreign posts was delayed due to difficulties in shipping election materials.
Overseas Filipino voters in North America have also expressed fear of possible disenfranchisement among their group, blaming the apparent unpreparedness of Comelec and Philippine embassies and consulates and their failure to properly disseminate information on the electoral process.
According to Migrante International, overseas voters received during previous elections their ballots ahead of the starting day of the overseas absentee voting.
"But this time, Comelec will be sending voting ballots in North America only after April 10. This is totally unacceptable and we believe it's a deliberate move to deny our kababayan of their right to vote," said Pelaez, also the secretary-general of Migrante International.
---