The words"Working Together" and Bayanihan identified the members of the Victoria Filipino Canadian Association (VFCA) and its affiliates as they walked proudly, waved cheerfully, and danced energetically to the beat of the Igorot gongs.
They, along with 75 other entries, demonstrated their resilience and courage by participating in the 122nd Victoria Day Parade on May 23 in B.C.'s capital.
The parade understandably was shorter because Covid19 made travel difficult and many groups were still hesitant to join.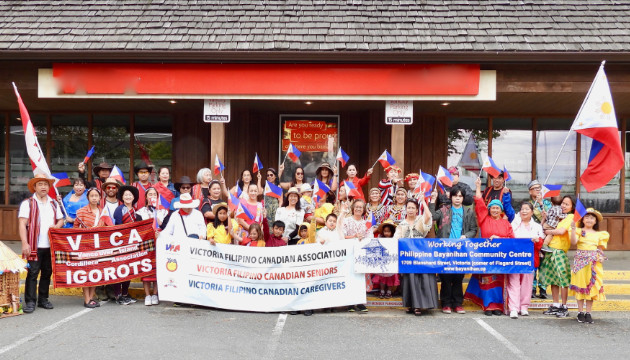 The Victoria Filipino Canadian Association and its affiliates shared their native traditions at the event.
Thousands of spectators lined Douglas Street clapping and cheering to encourage and thank the participants.
There were a dozen children wearing Filipino costumes who enjoyed all the attention and walked the four-kilometre route.
Many others wore costumes representing different regions of the Philippines. Indigenous groups from the Cordillera in the north and the Maranao people in the south hopped and skipped to a common beat.
The parade participants were welcomed back to the Bayanihan Community Centre for a hot meal of hot dogs, fried chicken and spaghetti Filipino style!
Later in the afternoon, Sampaguita dancers joined the "One World" celebration at Centennial Square to enthrall an audience with their colorful and joyful Binasuan and Lawiswis Kawayan folk dances.
---