Two Canadian Filipino films have been nominated in this year's Canadian Screen Awards (CSA).
The film adaptation of Catherine Hernandez's novel ScarboroughScarborough has evolved from being a crowd-pleaser at the 2021 Toronto International Film Festival (TIFF) to a nominee for several categories at this year's awards.
Scarborough has been nominated for 11 categories: Best Motion Picture, achievements in Direction, Cinematography, Casting, Sound Mixing, Sound Editing, Adapted Screenplay, Actor in a Leading Role, Actress in a Leading Role and Actress in a Supporting Role as well as the John Dunning Best First Film Feature Award.
Directed by Canadian Filipino Shasha Nakhai and partner Rich Williamson, the film won TIFF's Changemaker Award and was first runner up for its People's Choice Award.
Catherine Hernandez, the author of the 2017 novel about three children from diverse cultural backgrounds in low-income Scarborough brought together under a literacy program, wrote the adapted screenplay for the film which premiered in 2021. Scarborough is Hernandez's debut novel which is also a finalist in this year's Canada Reads.
In an exclusive with Canadian Filipino Net (CFNet) in 2017, Hernandez was introspective about writing the novel. "Being an artist means never being comfortable with your process, asking questions and wondering what more can I do."
She added, "Writing fiction was a very big piece of humble pie for me. Perhaps it's self-punishment, but I truly wanted to learn this art form for a while and am so happy my first stab at it has received such success."
The film is the first collaboration between Hernandez and directors Nakhai and Williamson. Nakhai's other films include The Sugar Bowl (2011), Paru-paro (2013), 18 Roses (2016), The Hole in Reservoir Hill (2018)and Thirty-Eight Minutes (2020).
Nominated for Performance by an Actor in a Leading Role is Canadian Filipino Liam Diaz who plays the lead role of Bing, a boy struggling with his own sexual identity.
Filmed on location in the Kingston-Galloway/West Hill neighbourhood, Scarborough takes place over the course of a school year. It explores the struggles, endurance, and resilience of the culturally diverse suburban community through the lives of marginalized children growing up in a system that has set them up for failure.
Meanwhile, Martin Edralin's Islands has both actors vying for major categories. Rogelio Balagtas has been nominated for Performance by an Actor in a Lead Role while Esteban Comilang has been nominated for Performance by an Actor in a Supporting Role. Balagtas won the US-based South by Southwest (SXSW) film festival's special jury recognition for a breakthrough performance last year.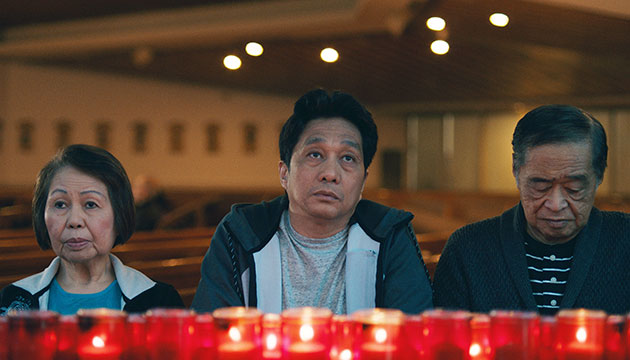 Islands' breakthrough actor Rogelio Balagtas (middle) and co-star Esteban Comilang (right) are both nominated for acting awards.
In Islands, Balagtas plays Joshua, a single, painfully shy, middle-aged Filipino immigrant who has lived with his parents his entire life and now beginning to feel alone as his parents' health declines. Comilangplays Joshua's ailing father, Reynaldo. Islands director Edralin himself has also been nominated for the John Dunning Best First Feature Film Award.
Winners of this year's CSA awards will be announced on April 10, 2022 at 8:00 pm EST on https://www.academy.ca.
---