The members of Dimasalang III International Artists Group, orphaned by the passing of SYM Mendoza last year, are regrouping to carry on SYM's legacy by putting on canvass all that they had learned from him in years past.
They are joining the BC Ugandan Resettlement Committee in an art exhibition at the Roundhouse in Vancouver curated by Taslim Samji.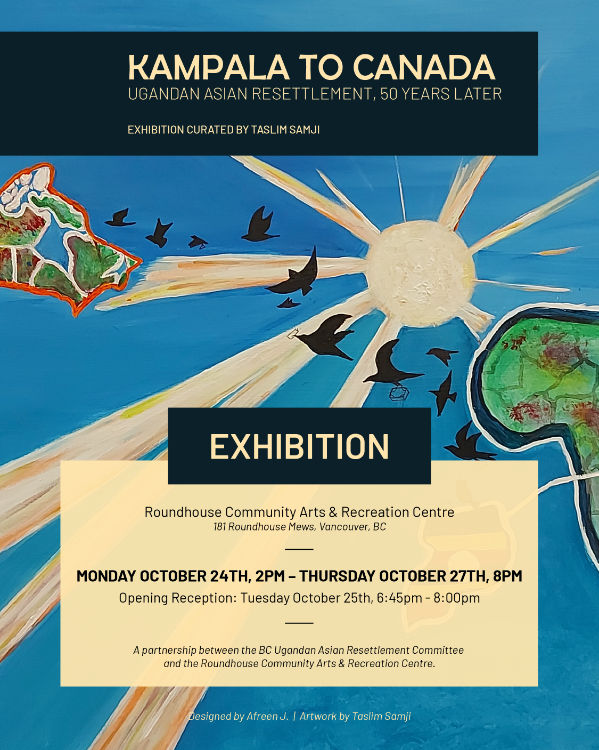 The Vancouver show runs from October 25h to October 27.
The three-day exhibition runs October 25th through 27th at the Roundhouse Community Arts and Recreation Centre in Vancouver. The Opening Reception is on October 25th from 6:45pm to 8:00pm.
The exhibition titled "Kampala to Vancouver" commemorates the 50 years of Ugandan Asians resettlement in Canada after they were forced into exile by President Idi Amin in 1972. Thousands of Ugandan Asians whose ancestors were originally from India and Pakistan arrived in Canada, penniless and uncertain at that time. Since then, they have given back to Canada - economically, socially, and culturally.
"We have profiled several Ugandan Asian Canadians in the exhibition. They are among land developers, hoteliers, entrepreneurs, educators, doctors, all of whom call Metro Vancouver home; they are generous supporters of community and social initiatives with their time and resources," said Samji, the curator.
With over 40 Canadian artists taking part in this exhibition, from Uganda, Iraq, Philippines, Malaysia, China, Kenya, Tanzania, Afghanistan, India and Pakistan, there are many stories, perspectives, and expressions to be shared, explained Samji.
The Philippines is represented in this exhibition by the Dimasalang III International Artists Group. Displaying their works are: Bert Morelos, Noel Trinidad, Antonio Dizon, Charlie Frenal, Francis Herradura, Mary Ann Manuel, Norman Belen, Juliana Loh, Reynato Pablo, and Leo Cunanan, Jr. They are proud to display SYM's legacy at this art exhibition to show that their maestro's ideas of beauty continue to live on in Canada.
---