Nootka Sound in the 1700s was a rugged remote international port – a major source of sea otter pelts valued as fur in China and Japan. Hence, Russian, American, and English ships called upon there with some frequency.
A review of the exploration history of the Pacific Northwest relates the return of an English ship Iphigenia Nubiana to Nootka Island on April 17, 1789,
A few weeks later, on May 5, 1789, the Spanish ship La Princesa led by Commodore Esteban José Martínez, followed by the packet boat San Carlos (alias El Filipino because it was built in Manila, 22 years earlier in 1767), entered the Nootka harbor - marked in Spanish maps as Cala de Los Amigos (present-day Friendly Cove at Yuquot, Nootka Island, British Columbia).
The Spaniards coming from the military port of San Blas, Mexico were there to claim Nootka for the King of Spain.
In his 1788 journal, Spanish Commodore Esteban Martinez described his crew as "either Negroes, Indians (natives of Mexico or California) or Mulattoes (mixed Mexican and Indian) and that very few were actually Spanish born." There was no mention of any Philippine-born crew or of related terminology.
In Nootka, the animosity between the Spaniards and the English led to the brazen seizure of the Iphigenia by the Spaniards. The imprisoned captain, William Douglas, wrote in his journal, "My servant, that was a Manilla Man, and spoke the language very well (Spanish), was not permitted to come near me …"
Douglas' journal relates that several days later, his "Philippine servant was bartering for fish with the Nootka natives".
This is the first documented Filipino, unnamed, to be located in what would be British Columbia, Canada. Records indicate the Filipino servant was with Douglas in Nootka Sound the year before in 1788.
Eventually, the Iphigenia was allowed to leave Nootka on June 1, 1789, with the Filipino servant presumably on board.
Other English ships also arrived in 1789 in Cala de Los Amigos and again were detained by the Spaniards. The dispatches by the Spaniards described the captured English vessels as having crews of various Europeans, Hindus, Filipinos, Malays, Hawaiians and Chinese. The multinational crew and their English officers were imprisoned and shipped to San Blas, Mexico.
How did these Filipinos turn up in English ships? Philippine entrepôts, even before the 1780s, regardless of anti-foreigner regulations, were allowing foreign ships to call on port for repairs, supplies and recruitment of Filipinos as seamen, before crossing the Pacific to North America. Filipinos on these non-Spanish ships were referred to as "Manilla men" – not the same "Manila men" referred to in Wikipedia who jumped ship from the Spanish galleons, escaped to New Orleans, Louisiana, and which has been adopted as a local American moniker.
That summer, Santa Cruz de Nutka "village", and El Fuerte San Miguel, were built by the Spaniards in Cala de Los Amigos. But in October 1789, the military post was abandoned and cleared, upon orders from the Viceroy of New Spain.
However at the start of 1790, there was a renewed drive to re-establish the Spanish station in Nootka under a new Spanish commandant, Francisco de Eliza. Eliza's fleet again included the San Carlos El Filipino.
In 1792, a log report described the Nootka all-male settlement as "consisting of some fifty houses …with about 200 inhabitants, Spaniards and Peru Indians (or Mexican Mestizos)". No Filipinos or related appellations were mentioned.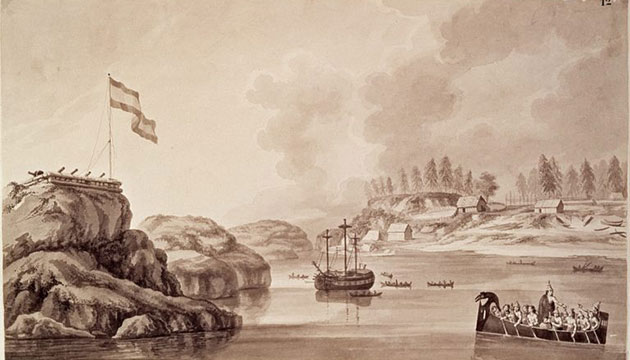 Cala de Los Amigos, Nootka Island - Santa Cruz de Nutka settlement and El Fuerte San Miguel (left on top of a rocky island). 1791 illustration by José Cardero, an artist with the Malaspina Expedition. A boat with the Nootka chief and his men is on the lower right. Can you make out the 1791 topography with the image of Friendly Cove?
In 1795 to settle counter British claims in the area, the Nootka settlement was officially relinquished to England by Spain. The buildings and fort were dismantled. Everybody, non-Nootka, left for good, including the San Carlos ship, bound for San Blas, Mexico.
There were no logs found of Filipinos being part of any Spanish ships in the Pacific Northwest in the 1700s, including San Carlos El Filipino, except the Malaspina Scientific Expedition in 1791 which had a crew of four Filipinos coming from Cadiz, Spain and a number drafted in Acapulco, Mexico. Filipinos were in Acapulco, an offshoot of the Manila-Acapulco Spanish galleon trade.
No chronicles were found that record Filipinos as residents of the first and second Spanish settlements in Nootka Island.
Now the 1800s
There are several sources on record regarding the presence of immigrants in Canada. A national one is the Census of Canada, which is available online under Library and Archives in Canada. A provincial one is BC Archives using auxiliary sources such as Records of Birth and Deaths. I also sourced land titles, books, other directories, newspapers from mid-1800s until now, archival library records, personal interviews with authors, among others. Other provincial or territory records, across Canada, were also investigated.
About the Census of Canada
The Dominion of Canada was officially born on July 1, 1867. British Columbia joined in 1871. The first census of the Dominion of Canada was taken in 1871. The first census in British Columbia was in 1881. There were censuses taken as early as 1851 in the eastern provinces of Canada before the formation of the Dominion.
A national census occurred every 10 years in Canada with the original purpose of helping determine parliamentary representation based on population. The censuses were not consistent in the type of data they sought. Not all censuses indicated the year of immigration, or country of origin, or date of birth, to name a few. Not all entries in earlier censuses were uploaded online.
Next Issue: Part 3 – The first recorded presence in the Dominion of Canada of people from the Philippines.
---