If you look at history books and online sources as recent as 2019, all of them will say that the first Filipino immigrants in Canada arrived in the 1930s, mostly settling in Winnipeg, Manitoba. So I left it at that.
Until …
Serendipity
It was May 2011, when I decided to visit Bowen Island for a long weekend after hearing about the fun of climbing Mount Gardner. Bowen Island is about a 20-minute ferry ride from Horseshoe Bay, West Vancouver, a distance of three nautical miles.
From the ferry dock, I saw the Bowen Island Public Library, a red Tudor style building. Inside, I asked if there was historical information about the island, and the librarian showed me the book titled Bowen Island 1872 – 1972 by Irene Howard. I wanted to know the history of the place I was about to explore.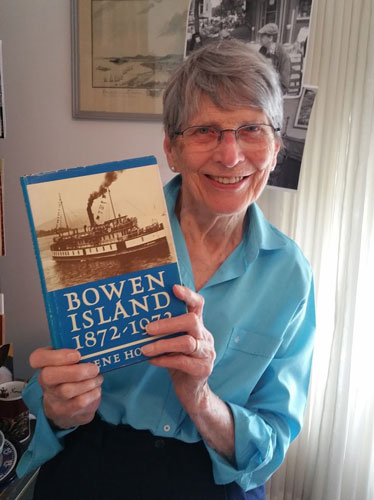 Historian Irene Howard is the author of the book Bowen Island 1872 – 1972 that mentions settlers from the Philippines around 1898.
Page 36 of the book refers to the arrival of new settlers around 1898. And to my amazement, I read, "From the Philippines, Benson, Matilda and William Flores (DL 1426), the men beachcombers and fishermen."
On page 42, " … and Ben Flores, who had a float house in the Cove, and liked to play the concertina and sing, could make a little money renting boats."
Five years later, on a sunny April 11, 2016 afternoon, I met the book author Irene Howard, for tea and cookies in her apartment in Vancouver. Irene collected information on the Floreses based on what the Bowen Island residents had provided her when she was doing her research in the 1960s.
Our meeting made me want to revisit Bowen Island. Based on a map provided by the Bowen Island Museum and Archive, I walked around District Lot 1426 wondering how the place, now a residential community, might have looked like during Benson Flores' life in the 1890s.
Was Benson Flores Canada's first Filipino immigrant?
In the midst of the pandemic in 2020, I received several inquiries on my blog jlopezmb article regarding Benson Flores. One of them was a Wikipedia contributor who found my blog on Benson Flores and since then has incorporated Benson Flores in Wikipedia's article regarding Filipino Canadians. There were other online references to earlier Filipinos, ahead of Benson Flores, residing in British Columbia. We will talk about this later.
To get more definitive information on the first Filipino immigrants in Canada, I embarked again on a research expedition.
Were there other Filipinos during Benson Flores' time? Who were they? When and how did they arrive in Canada?
In March 2021, journalist and publisher Ted Alcuitas shared with me a newsletter from the Bowen Island Historians "Historiana" dated June 2001. On the last page was a short article titled "Some Notes on Bowen Island's Pioneers ..."
"The census (1901) disclosed that a small Filipino community resided on Bowen, probably engaged in both fishing and farming. It included Fernando Toreenya, a fisherman who came to Canada from the Philippines in 1886 with his wife Mary. They lived at 'Bowen Island Bay' (probably Deep Bay or Snug Cove) and had three other Filipino boarders living with them, William Matilde, Antoni Bentorre and Castro Ricardo. Others included fisherman William (Benson) Flores, who lived on a barge in Snug Cove; Bastino Pasento, who called his home Pasento Ranch and died in February 1904, John Delmond(?), and Jose Garcia."
But let us go earlier – 1700s (18th Century)
There were no records found regarding "Filipinos" or other terminologies of inhabitants from Manila, 0r Las Islas Filipinas, who might have been in Canada for any reason, in the period 1500s to 1600s.
Today, in a number of online encyclopedias and internet articles, there are references to "Manila Men" in the late 1700s who "were recruited in naval operations, aboard the ship San Carlos el Filipino sent to support the short-lived Spanish settlement of Santa Cruz de Nuca and Fort San Miguel, Nootka Island, off the coast of Vancouver."
However, the Wikipedia footnote on "Manila Men" recruited for Santa Cruz de Nuca is a dead web link. The link title indicates the reference was from an author based in New Orleans, Louisiana. The term "Manila Men" was an American term for Filipinos who formed the first Filipino settlement in present-day United States. These Filipinos were believed to have jumped ship coming from Manila on the way to Acapulco, Mexico to escape the harsh conditions on board the Spanish galleons.
According to oral tradition, these Filipinos settled as early as 1763 along the bayous near New Orleans, as far away as they could from the Spanish ports along the Mexican Pacific coast. So for these "Manila Men" to have re-enlisted in the Spanish navy back in Mexico, supporting a military post way up north in Nootka Island between 1789 and 1795, was highly unlikely.
Next Issue: Part 2 – We answer the question "But were there Filipinos in Nootka Island?"
---