A Canadian Filipino film stood out from the rest of competitors at the recent US-based South by Southwest (SXSW) film festival held virtually March 16 to 20. Islands, directed by Martin Edralin, garnered the festival's special jury recognition for breakthrough performance for its breakout star Rogelio Balagtas.
Islands tells of a single, painfully shy, middle-aged Filipino immigrant Joshua who has lived with his parents his entire life and now beginning to feel alone as his parents' health declines. Joshua feels terrified of being alone when they eventually pass.
In accepting the award online, Balagtassaid, "I hope there will be more acting opportunities for Filipinos, Asians and people of colour especially in Canada and in the United States."
In an exclusive with Canadian Filipino Net (CFNet), Balagtas expressed genuine surprise, "Actually I was surprised because the film was in Tagalog, I thought they would not appreciate it much."
Balagtas is currently in the Philippines amid the pandemic but was previously employed as a security guard in Winnipeg, Manitoba. He tells CFNet, "I was only taking a short vacation (in the Philippines), but the pandemic prevented me to go back, so I decided to stay here for a while."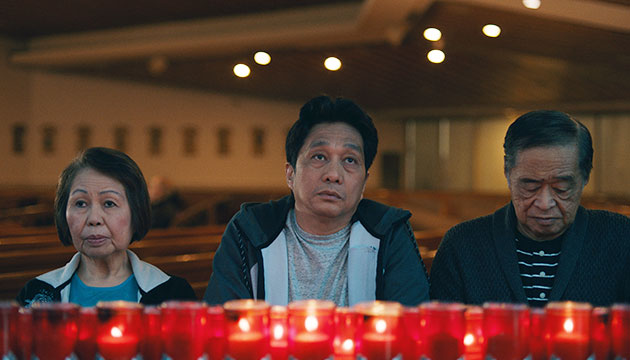 Islands' tackles a Filipino family's deeply-rooted devotion to faith.
Of his acting future, Balagtas credits Islands for giving him confidence in his craft. "Islands has changed my attitude," he tells CFNet."Maybe I won't be so nervous anymore sa susunod kung meron man, I hope!"
Edralin has produced and directed a number of short films but Islands is his first feature film and the first to be about Filipinos. On when the impetus to finally create a Filipino film, the director tells CFNet he was initially hesitant because he felt that his films were and should be "about universal human experiences and that I should be able to cast the best performers that I could find, regardless of ethnicity."
But the moment eventually came when Edralin got "woke". He shares with CFNet, "I eventually started to realize how our invisibility in the media - and this goes for all underrepresented communities - impacts our identities, self-worth, and how we're perceived by others. To have this realization culminate in news of anti-Asian violence in the U.S. on the day of our film's premiere was like an alarm bell sounding with no off or snooze buttons. I need to keep telling Asian diaspora stories."
Edralin is currently writing two feature films and is in post-production stage for a short documentary. Also in the works is a documentary set to be shot in the Philippines as soon as travel is allowed.
Edralin directed and co-produced Islands with another Canadian Filipino talent Priscilla Galvez. Galvez produced Until Further Notice, a CBC Gem short documentary.
A film review by Roger Ebert's Nick Allen states, "Martin Edralin's directorial debut "Islands" is sure to be one of the more gradual, more restrained films playing the virtual festival this year, and such tenderness will only help it stand out even more. It becomes clear as "Islands" … that the amount of empathy he (Edralin) has for these characters matches that of their significant loneliness."
This year's SXSW film festival program included 75 features including 57 World Premieres and 53 films from first-time filmmakers.
Islands is slated to premier in Canada soon. Follow the film's progress through social media @islandsthemovie.
---