As part of its North American expansion plans, Jollibee Foods Corporation (JFC) opened its sixth Canadian location in Toronto on September 6 with over 6,500 customers served that day. There are two stores in Winnipeg, Manitoba, one in Edmonton, Alberta and one each in Scarborough and Mississauga, Ontario.
The new Toronto Wilson Station restaurant is located at 79 Billy Bishop Way, Unit C3, North York, north of downtown Toronto and steps away from a subway stop. Jollibee aims to open 100 branches in Canada over the next five years.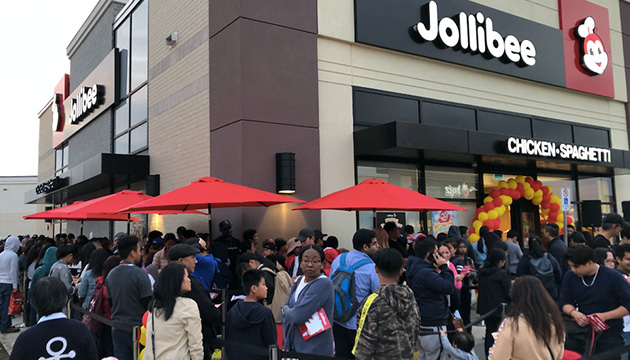 The first customer in line was English teacher Joseph Sunio and his girlfriend Cheryl Teodocio who lined up at noon prior to opening day. Sunio and Teodocio, along with others who were the first 25 customers to arrive, received a One Year of Joy prize which includes a year's supply of Jolly Crispy Chicken.
In a press release, JFC North America Philippine Brands President Maribeth dela Cruz said, "We are so excited to be opening our doors for a third time in the Greater Toronto Area. We are incredibly humbled by the support we have received from locals of the Toronto area since opening our last two stores in Scarborough and Mississauga, and we look forward to being able to give our Toronto Wilson Station family the same warm and friendly service our customers know us for."
The two other Jollibee stores in the GTA are located at 15 William Kitchen Rd, Scarborough, ON M1P 5B7, Canada and 800 Boyer Blvd, Mississauga, ON L5V 2Y1, Canada.
Jollibee is the flagship brand of JFC's 14 brands. JFC is one of the world's largest and fastest growing Asian restaurant companies with more than 4,500 stores in 21 countries.
---