Ontario holds its next provincial election on June 7, and a few Canadian Filipinos are hoping to make a breakthrough.
No Canadian Filipino has been elected to the Legislative Assembly of Ontario so far.
The governing Ontario Liberal Party has one Canadian Filipino candidate, Ramon Estaris, who is running to represent York Centre as its new Member of Provincial Parliament (MPP).
"I am humbled to be running to become the first Filipino MPP in Ontario's history," Estaris said in a Liberal Party media release following his nomination on April 12.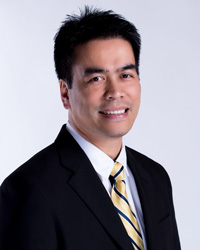 Ramon Estaris is running with the ruling Ontario Liberal Party.

According to the news release, Estaris is part-owner of NGTV, a global online broadcast network, and a founder of Pinoy Radio. He is an organizer of the Taste of Manila and Taste of Asia festivals.
The Ontario Liberals are facing a determined challenge from the Progressive Conservative Party.
The Ontario Conservatives will not have Canadian Filipinos as candidates.
Antonio Villarin, a lawyer who specializes in immigration, civil, family and criminal matters, wanted to run in Scarborough Centre, but another candidate was named by the party without a nomination.
Rosemer Enverga, widow of the late Canadian Senator Tobias Enverga, sought a nomination with the Progressive Conservative Party to run as a candidate in Mississauga Centre, but was defeated by another hopeful.
A minor party called the Trillium Party of Ontario is fielding two Canadian Filipinos.
Running for the Trillium Party are lawyers George Marcos Garvida in Scarborough-Guildwood, and structural designer Carlos Lacuna in Scarborough-Agincourt.
---