April 16, 2023 - On April 27, 2023 the Office of Parliamentary Secretary (Anti-Racism) MLA Mable Elmore will sponsor a bill with the Legislative Assembly of British Columbia to proclaim April 27 as Lapulapu Day in BC.
In the Philippines, Lapulapu Day is a special working public holiday first established in 2017 by then Philippine President Duterte to be observed in the country every April 27. This year, Vancouver-Kensington MLA Mable Elmore will be leading the observance of Lapulapu Day in British Columbia with an official declaration of Lapulapu Day at the Legislative Assembly at 10 am on April 27.
Those who wish to attend the declaration ceremony are invited to register through the Bayanihan Community Centre by email: This email address is being protected from spambots. You need JavaScript enabled to view it. or phone: (250) 472-1898.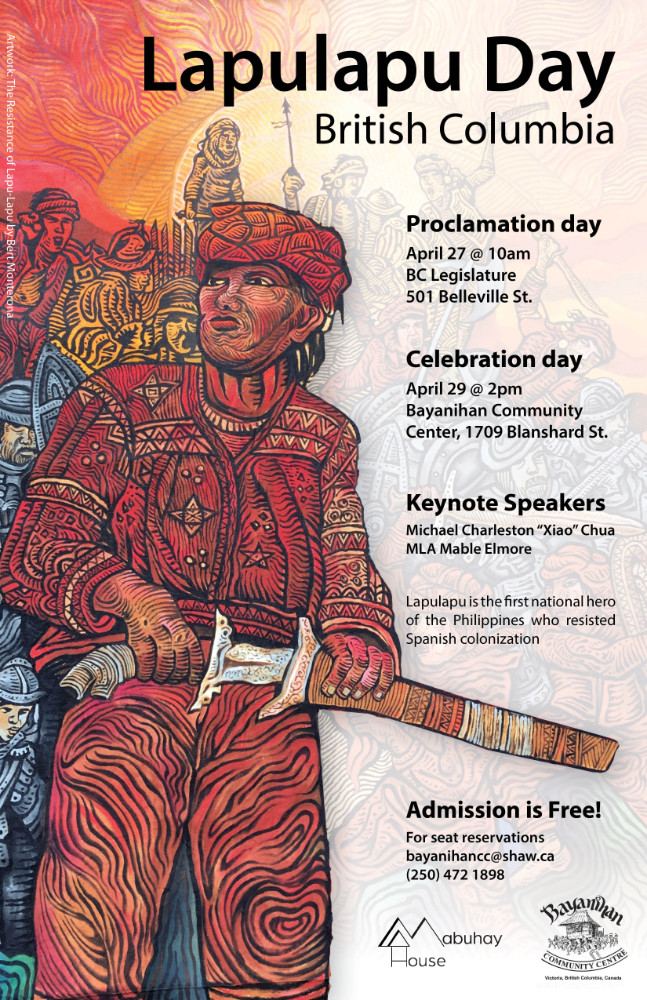 Event poster features rendering of native leader by Vancouver artist Bert Monterona.
On April 29, starting at 2 pm, Lapulapu Day festivities will continue at the Bayanihan Community Centre on 1709 Blanshard Street in Victoria, with the staging of excerpts from the musical Lapulapu, ang Datu ng Mactan by playwright Nicolas Pichay as well as dance and music performances and a keynote address on the historical significance of Lapulapu by Philippine historian Prof. Xiao Chua.
Nicolas B. Pichay's libretto-script, "Lapulapu, AngDatu ng Mactan" is written in two Philippine major languages, Cebuano and Tagalog, with a touch of Spanish, and of the two official languages of the Philippines, English and Filipino. Pichay wants the publication of this script to become an educational material for dissemination among young learners as a major part of MLA Elmore's bill to help facilitate the young Filipino learners' understanding and appreciation of Philippine history and major languages.
Lapulapu is celebrated in the Philippines today as the first Filipino to resist foreign dominion over the Philippines. It was Lapulapu and his men who defeated the Portuguese conquistador Ferdinand Magellan who was exploring for Spain in a fierce battle on April 27, 1521, now referred to as the Battle of Mactan.
Magellan launched an attack on Mactan in Cebu on April 27, 1521 on the urging of another Filipino chief, Rajah Humabon who had converted to Christianity. Humabon had had a fierce rivalry with Lapulapu, including competition for control of the maritime trade in and out of Cebu. Humabon was easily subdued by Magellan, converted to Catholicism and became an ally of Magellan in the fight to subdue Lapulapu.
The Battle of Mactan was recorded by Magellan's chronicler, the Italian scholar Antonio Pigafetta who wrote that Magellan's force of around 60 Spaniards was joined by 20 to 30 war boats of Humabon's warriors from Cebu, with the aim of subduing Lapulapu and his men.
Magellan told Lapulapu that he would not attack if Lapulapu pledged fealty to Rajah Humabon, paid a tribute, and swore obedience to the Spanish king. Lapulapu refused. Magellan and 49 of his men then proceeded to set fire to houses on the shore. In the battle that followed Lapulapu's force of 1,500 warriors, armed with iron swords, bows, and bamboo spears overwhelmed Magellan's small crew. Magellan was wounded by a poisoned arrow and proceeded to retreat.
Magellan later died from his wounds. Although the Spaniards would go on to claim the Philippines for the Spanish king, Lapulapu was not forgotten and served to inspire generations of Filipinos who resisted foreign rule. At a time when Philippine sovereignty faces obvious as well as insidious threats to national sovereignty, Lapulapu reminds Filipinos of the precious right to freedom and self-determination, and the courage needed to preserve these. Today, Lapulapu is retroactively honored as the first "Philippine national hero" to resist foreign rule.
---
---