On October 25 this year, Statistics Canada released select figures from its 2016 Census, which deal with ethnic diversity.
The results show that immigrants from the Philippines comprised the biggest group of new arrivals who came to Canada from 2011 to 2016.
According to Statistics Canada, a total of 1.2 million new arrivals entered Canada within that five-year period, and Filipinos represented the biggest fraction of 15.6 percent.
All in all, some 188,805 immigrants from the Philippines arrived in Canada from 2011 to 2016.
The findings indicate that a total of 837,130 people of Filipino ancestry were counted on Census Day on May 10 last year.
The last Census established that Canada has a total population of 35,151,728.
With a number of 837,130, Filipinos now comprise 2.3 percent of the Canadian population.
Based on the Census, there were 369,105 Filipino males and 468,025 females.
According to the federal agency's report titled 'Immigration and ethnocultural diversity: Key results from the 2016 Census', Filipinos, as well as people of Arab extraction, have "almost doubled their numbers in 10 years".
The growth of the Filipino population has surpassed a previous projection by Statistics Canada.
A March 2005 study by the agency predicted that by 2017, the year when Canada celebrates its 150th anniversary, there would be at least 540,000 Filipinos in the country.
The study titled 'Population Projections of Visible Minority Groups, Canada, Provinces and Regions' used as its basis the 2001 Census figure of a total population of 30.6 million, of which at least 315,000 are Filipinos.
Based on the 2016 Census results, Filipinos comprised the fourth largest visible group in Canada, followed by Arabs at fifth place.
In addition, Filipinos and Arabs had the "highest growth rates among visible minority groups from 2006 to 2016", according to the report.
The report notes that South Asians, Chinese and Blacks were the three largest visible minority groups in Canada.
Based on the 2016 Census, 1,924,635 people reported being South Asian. They represented 25.1 percent of the visible minority population, and 5.6 percent of the entire Canadian population.
Chinese comprised the second largest visible minority group. They numbered 1,577,060, which make 20.5 percent of the visible minority population.
The Black population surpassed the one-million mark for the first time in 2016, according to Statistics Canada. Blacks numbered 1,198,540 individuals.
Asia, including the Middle East, remains the top source continent of recent immigrants, according to Statistics Canada.
In 2016, the majority or 61.8 percent of newcomers were born in Asia, according to the federal agency.
Moreover, Asian countries accounted for seven of the top 10 countries of birth of recent immigrants in 2016: Philippines, India, China, Iran, Pakistan, Syria and South Korea.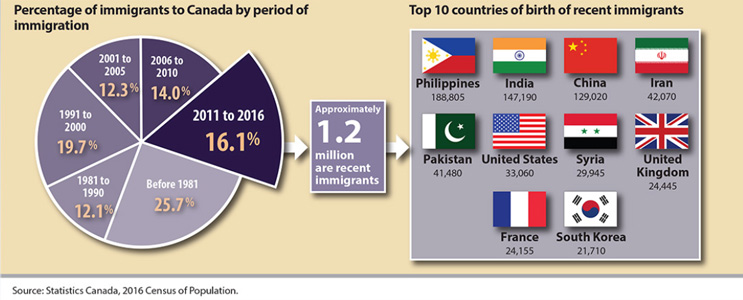 ---