A recent Statistics Canada report reveals findings that, in 2017, Filipino immigrants enjoy an employment rate of 88.5 per cent, higher than their Canada-born counterparts at 84 per cent and even higher than other immigrants at 78.9 per cent.
The numbers are based on what Statistics Canada calls "core working age" of 25 to 54 when individuals are expected to have finished school and not yet retired from the workforce.
The study, Canadian Immigrant Labour Market: Recent Trends from 2006 to 2017, also confirms that in the 12-year period beginning in 2006 when labour-force data became available, Filipino immigrants have had the highest employment rate of all immigrant groups in Canada.
The study attributes these labour-market indicators to education characteristics that Philippine-born immigrants bring with them to Canada like having post-secondary education (college and university). Seventy-two per cent of Filipino immigrants have post-secondary education compared with 55 per cent for Canadian-born workers and 59 per cent for immigrants born in Europe.
Citing a Southeast Asian Ministers of Education (SEAMEO) guidebook on education systems in Asia, the report notes that the Philippines' education system closely relates to the North American system and that the country uses a bilingual medium of instruction with courses taught in English and Filipino.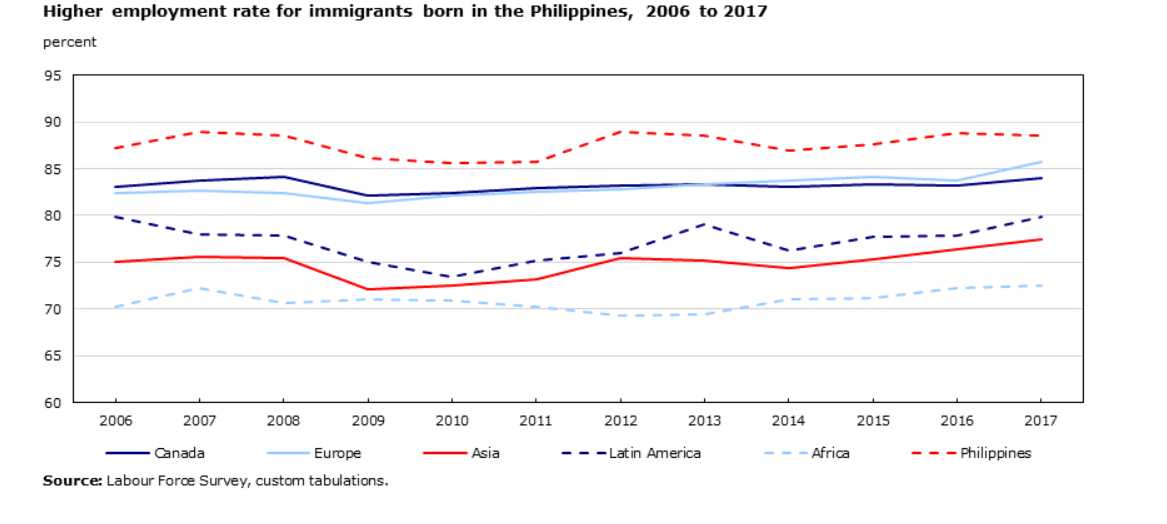 Immigrants in British Columbia and Ontario account for most of the immigrant employment growth in 2017. Of the 900,000 individuals of Filipino descent in Canada, almost a third live in Ontario and over a hundred thousand reside in British Columbia. Manitoba, home to over 83,000 Canadian Filipinos, reported the highest employment rate at 83.1 per cent among immigrants of all provinces in 2017.
The Statistics Canada report projects that by year 2036, immigrants in Canada would comprise between 24.5 percent and 30 per cent, compared to only 20.7 per cent in 2011. Almost half of Canada's population, between 44.2 per cent and 47.9 per cent, is projected to be made up of immigrants and second-generation individuals by 2036, compared to 38.2 per cent in 2011.
---
---
{