An Open Letter to the Canadian People and Their Government Leaders:

Most Filipinos and Filipino Canadians are intensely monitoring the unfolding presidential campaign in the Philippines that culminates on election day, May 9, 2022. They believe their lives and future, as well as those of their children, depend on its results.
For the very first time, we are witnessing a national campaign where millions of our people are collectively self-mobilizing, volunteering freely, spending their own resources, and unleashing their creativity in a "Pink Movement" to elect Vice-President Maria Leonor "Leni" Gerona Robredo and Senator Francis "Kiko" Pancratius Nepomuceno Pangilinan as President and Vice-President, respectively. This display of popular enthusiasm and grassroots energy is unprecedented in Philippine electoral history.
Filipinos are finally seizing the opportunity to act on their long-held desire for good governance in a country long saddled with corruption and dynastic political rule. They are fighting not only for incumbent Vice President Robredo and Senator Pangilinan, but also for the tandem's reform-driven senatorial list, the party-list Akbayan Citizens' Action Party, as well as many reform-minded, independent candidates for local offices, who can truly protect our fundamental human rights and repurpose our government into one that is truly "by the people and for the people."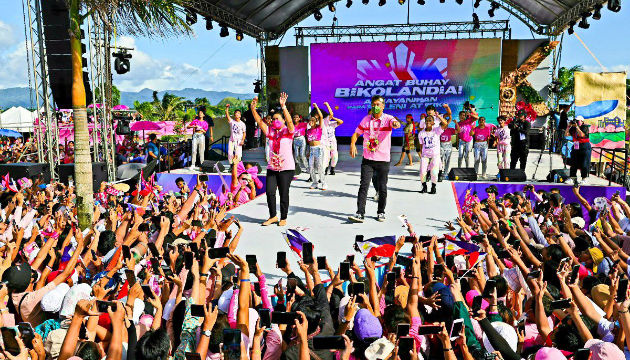 The Robredo-Pangilinan team is determined to defend the rights of indigenous peoples, pursue environmental justice and economic recovery, and fight for popular access to health care, child care and education, especially for the poorest of the poor. They are the breed of candidates we thought we would never see; they who challenge prevailing authoritarianism, corruption, discrimination, misogyny and neglect of the people's welfare. We hope our vigorous campaign for social change in the Philippines will inspire and bolster the Canadian people's and their government leader's spirit of democracy and respect for human rights. We hope you will share the enthusiasm of our People's Campaign for "Gobyernong Tapat, Angat Buhay Lahat!"— an Honest Government and a Better Life for All.
From Friends of Leni-Kiko Team
Akbayan Canada
Calgary for Leni-Kiko 2022
Canada for Leni
Deva Dental Clinic
Friends from Caregiver Connections Education and Support
Organization (CCESO), Toronto
Friends from Carlos Bulosan Theatre, Toronto
Friends from Vancouver Committee for Domestic Workers and
Caregivers Rights (CDWCR)
Filipinos Rising
Global Filipinos For Leni (Canada)
Global Pinoy Diaspora Canada
Isabelenis Calgary
Proud Bicolanos
Tropang Canada

Media Contacts:
Julie Diesta, 778-881-8345, CDWCR
Treenee Lopez, 604-773-9192, Diaspora Canada
Martha Ocampo, 416-560-0940, CCESO
Antonio Gerona, 403-667-2753
---