A Filipino-language news program debuted on OMNI Television, bringing the voice of the community to the Canadian mainstream.
OMNI News: Filipino Edition started airing every day on September 1.
Producer Marieton Pacheco said that the 30-minute newscast aims to represent the "community's voice on Canada's news".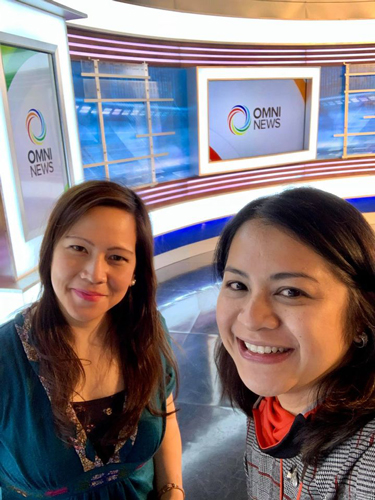 Theresa Barrera and Marieton Pacheco (right)..
"It also hopes to bridge multi-generation Pinoys through stories that reflect their lives," Pacheco said.
Pacheco is a veteran broadcast journalist. She recently worked for The Filipino Channel (TFC), a global subscription network of Philippine media company ABS-CBN.
Pacheco was a reporter and anchor with ABS-CBN and its cable channel ANC in the Philippines before she and her family moved to Canada.
According to Pacheco, her new job of producing the Filipino-language newscast for OMNI "comes at a perfect time" for her growth as a journalist.
"From field reporting and anchoring in the Philippines with ABS-CBN and ANC, to being a Balitang Canada host and freelance correspondent for TFC in the past 10 years, I have had equal experience of what it means to be a Filipino journalist both at home and here in Canada," she said.
Pacheco noted that she is excited to be working with journalists who represent "different stages of being Canadian".
"We have journalists who have experience and have built names in Philippine media," she noted.
Pacheco mentioned Rhea Santos and Ron Gagalac.
Santos was born and raised in the Philippines. She has 19 years of experience in television. Santos was with Philippine media company GMA Network, where she was a host of the morning show Unang Hirit.
According to an OMNI TV news release, Santos was the "longest-serving female morning newscaster in the history of Philippine television".
Gagalac, for his part, was from ABS-CBN, where he served as a multimedia news correspondent. He holds a master's degree in communications from the Ateneo De Manila University in Quezon City, Philippines. He is pursuing studies at Seneca College in Toronto.
Pacheco said that OMNI News: Filipino Edition also includes journalists who have worked in Canadian media.
They are Theresa Barrerra, and Arvin Joaquin.
Barrera is an experienced journalist, having worked as a reporter and journalist at CTV News, Pulse FM, and Life FM. Her stints include having been an on-air host at Corus, Jim Pattison, Crossroads, and Touch Canada Broadcasting stations in B.C. and Alberta.
According to the OMNI news release, Joaquin is an award-winning journalist and editor with experience as an associate editor at Xtra Magazine and associate producer at Global News. His work has appeared in The Huffington Post, CTV News, TVO, CBC, and others. Joaquin studied at Carleton University where he achieved a master's degree in journalism.
Pacheco added that the daily news program likewise boasts of young journalists Therese Redula, Paula Saraza, and Andy Aquino.
Redula was born and raised in the Philippines. She is a recent journalism graduate of Niagara College. Redula reported for the Niagara News.
Saraza moved to Canada in 2016 with her family. She completed her journalism degree at Seneca College in Toronto. She previously worked as a production assistant and reporter for Filipino TV, a Canadian media organization.
Aquino joined OMNI in 2019 as the host of Blue Jays: Pinoy Edition, the home for the Toronto Blue Jays in Tagalog. Aquino volunteers with the Kapisanan Philippine Centre for Arts and Culture, and Carlos Bulosan Theatre, both in Ontario.
Referring to the news team, Pacheco said: "I think it gives us a wider cultural lens, a wider perspective of what it means to be Filipinos in Canada and how we can better tell their stories."
In the news release, OMNI Television director Manuel Fonseca said that the network has "proudly served multilingual Canadians for 30 years in more than 40 languages".
Fonseca said that the addition of a Filipino edition, together with an Arabic news program that also debuted on September 1, is an "exciting milestone" for the network.
OMNI Television is the only multilingual and multicultural television broadcaster in Canada. It is part of Rogers Sports & Media, a subsidiary of Rogers Communications Inc.
Details: https://www.omnitv.ca/on/en/schedule/
---