October 1, 2022: Indomitable Canadian Filipinos - Wow! What a title for a hardcover or a paperback! Do not be upset if you have not yet spied this new book by Canadian Filipino.Net.
It's not yet available, but forthcoming soon. I have been privileged to preview the whole manuscript and I would like to share my takeaway of it. I am told that as early as New Year 2023 the book will be ours to purchase, own and read. A family heirloom to cherish, perhaps? Or, a gift to family members, neighbors and friends? Watch for further announcements on where to get a copy or two.
Whether it is a community memoir or a contemporary history book – it can qualify for both – the title reflects the enviable work ethic, unyielding confidence and passionate spirit of a people – the Canadian Filipino community.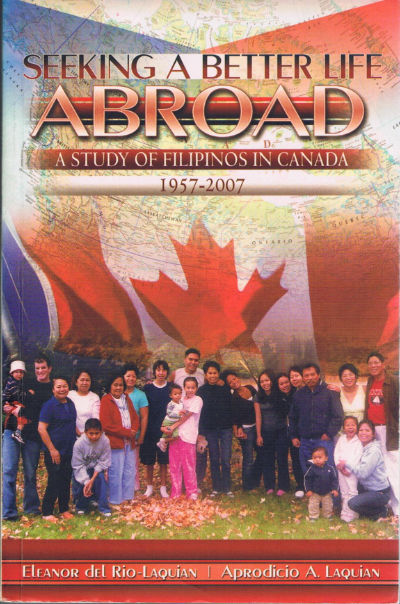 Upcoming book follows the 2008 book Seeking a Better Life Abroad: A Study of Filipinos in Canada, 1957-2007.
Edited by Eleanor R. Laquian – an established Canadian Filipino author and acknowledged authority on Filipino migration to Canada – the book promises to be informative, inspiring and entertaining. To remind readers, Eleanor and her husband, University of British Columbia Professor Emeritus Dr. Aprodicio Laquian, jointly authored the pioneering bestseller, Seeking a Better Life Abroad: A Study of Filipinos in Canada (1957–2007), which was published by Anvil Publishing in 2008 and distributed in Manila by National Book Store. Now a vintage publication, it provided the natural groundwork for the forthcoming book, now being published by Friesen Press for distribution in Canada.
Many have toiled to produce this CFNet book. The core of CanadianFilipino.Net (CFNet) staff who volunteered their time and talents – individuals known to many yet unassuming – constitute the editorial team: Emmy Buccat, Carlito Pablo, and Rachel Ramos-Reid, all of whom hold expertise in the fields of journalism and communications and are passionate about community engagement. They shared their keen media minds for reporting and untiring eagle eyes for proofreading.
Chapter One – the Introduction – begins with a quote from one of them:
"It is and will continue to be a long and hard grind for every Filipino who has a spot to claim in the Canadian landscape, but success can certainly be had and be rightfully deserved by those who do not hesitate to take that journey."

Rachel Ramos-Reid
CFNet Managing Editor
2022
Then, it describes the experiences of the first, 1.5 and 2nd generations of the Canadian Filipino immigrant community nationwide as witnessed and recorded in real time on CFNet, a digital newsmagazine in operation since 2016, and identifies the broad shared-immigrant story.
The Purpose and Scope section reads, and I quote at length:
"Benson Flores, was the first Filipino to migrate to British Columbia in 1861, as reported by the 1911 Canadian Census, six years before Canada's Confederation in 1867 and a century earlier before the first wave of Filipino migration to the country started cautiously in the 1960s. Today, 70 years since the onset of that first migration wave, about a million Filipinos across the country call Canada home. In grateful celebration, the Canadian Filipino community is pleased to share their contemporary Canadian story with the rest of Canada through this book.
This is where CanadianFilipino.Net comes in with its novel history book, Indomitable Canadian Filipinos, telling the broad story about the past seventy years of Filipino immigration to Canada from a uniquely Filipino viewpoint on Canadian life.
How can one best judge that it is, indeed, one-of-a-kind, a novelty?
University of Manitoba history teacher Dr. Jon G. Malek provides a guide on how to answer such a question. When he accepted the invitation from the Canadian Historical Association (CHA) to do a "summary history of the Filipino community in Canada," he posted in his Pilipino Express column, It's All History, these twin guidelines in the form of interrogatives: 1) How can one best represent the lives, activities, and experiences of those who have come to call Canada home? and 2) What broad story should be told?"
When he released in December 2021 his CHA-sponsored booklet, Filipinos in Canada, he wrote: "History is something that is lived, experienced, remembered, and shared."
Aptly, the forthcoming CFNet book is a virtual window into the experiences of the first, 1.5, and second generations of Canadian Filipino migrants across the vast geography of the country from the Arctic North to the Atlantic Eastern Shores and the Pacific West Coast.
---