Over 200 immigrant and refugee youths and some "adult allies" from British Columbia and across Canada recently trooped to the Science World Theatre in Vancouver for the 2017 Fresh Voices Ceremony Awards.
The awards, a partnership between the Vancouver Foundation, Vancity Credit Union and the Michaëlle Jean Foundation, recognize newcomer youth leaders who advance social change based on concerns such as immigration and education.
An awardee for the "Maintaining Cultural Roots" category was Canadian Filipino high school student Eveyen Sobremisana, a student at the Killarney Secondary School in Vancouver. She was recognized for creating "Fresh Start Magazine," a platform for Filipino newcomer youth to tell their stories. She received a nicely-designed wooden plaque and a $1000 cash award.
Two other Canadian Filipinos were nominated for Fresh Voices Awards: muralist Bert Monterona, who competed for the Adult Ally Award; and youth leader Lovely Ranges, a contender for the Youth National Artivism Award. Both Monterona and Ranges are members of Migrante B.C.
"It is an honour to be nominated for this event and I am amazed at the concern and efforts of the working committees particularly of the Fresh Voices Initiative, in recognizing our community works and also igniting more interest and love to serve the people," Monterona said.
Monterona, a founding member of the Vancouver-area-based Philippine Artists Network for Community Integrative Transformation(PANCIT), was recognized for his work as an artist, cultural educator and facilitator in helping young Filipino newcomers discover their gifts for painting and drawing.
He was nominated for his use of the arts to help the youth situate their migrant experience in the context of Philippine diaspora.
Monterona leads regular art workshops at Bahay Migrante, local schools and in community groups. He also organizes small group art exhibits for workshop participants.
Meanwhile, Ranges, a student at Moscrop Secondary School in Burnaby, B.C., is a poet, filmmaker and facilitator. At 16, she became the youngest person to complete Check Your
Head's Inclusion and Anti-Racism program, and soon began to facilitate migrant justice workshops in Vancouver.
Her work tackled colonialism, racism and transgender issues. She recently made a video on immigration and identity experiences in Canada and worked as volunteer media coordinator for the Vancouver School Board Sustainability Conference. Ranges is a member of the newly-formed Migrante B.C. Youth.
Another recent Fresh Voices event was a photo exhibit called, "My Mother's Home 2017," co-curated by photographer Rita Hernandez and the Fresh Voices Youth advisory team.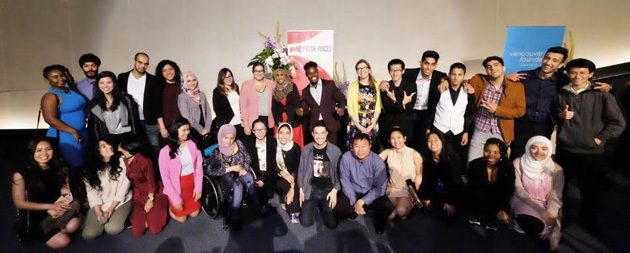 Fresh Voices Awards winners and nominees with (Front row, third from R) Lovely Ranges, Eveyen Sobremisana and Bert Monterona. Photo by Fresh Voices

"The event was held to honour the stories of resilience and diverse migration journeys of racialized immigrant and refugee mothers in British Columbia," according to Alejandra Lopez Bravo, manager of the Fresh Voices Grants and Community Initiatives of the Vancouver Foundation.
Canadian Filipino Avelina "Belen" Vasquez was one of the women honoured and photographed for the exhibit. Vasquez, a breast cancer survivor, is a skilled organizer and now a member with Migrante B.C.
---