April 1, 2023 – On March 20 spring officially started in Canada. On that same day, Friesen Press also announced that Indomitable Canadian Filipinos was officially published and up for sale on the FriesenpressBookstore.
To order from Friesen Press, please click on their link below:
Here is the direct link to the title: https://books.friesenpress.com/store/title/119734000136030098
This CFNet book will also be available for sale at various book launches and special events in Toronto, Vancouver, Victoria, and Winnipeg starting in April at promotional prices of $25 for paperback and $35 for hard cover. By buying the book in person at these special events, one saves the shipping cost of $13 for paperback and $17 for hard cover. Watch for date, time, and place of these special events to be announced in April.
These book-selling events are to raise funds to enable CanadianFilipino.Net to continue publishing for another five years and beyond. Now on its sixth year of publication, CFNet is published by the nonprofit Maple Bamboo Network Society established in 2016.
The MBNS was the idea of Carlito Pablo to enhance the Filipino community's public image. He invited Clay Campbell, Eleanor Guerrero –Campbell, Aprodicio and Eleanor Laquian to join him as core organizers. Together they formulated the mission and mandate of MBNS and planned the operation of its online newsmagazine CanadianFilipino,Net. Since then they have attracted a formidable team of 30 volunteer Filipino writers from all over Canada who contribute original articles written for CFNet.
Why the term Canadian Filipinos
When the MBNS core group was setting up the CFNet newsmagazine, one of its main goals was to popularize the use of the term Canadian Filipinos instead of the more common hyphenated Filipino-Canadians which other hyphenated immigrants use.
The group felt that with the non-hyphenated Canadian Filipino, the focus is on Filipino as a noun and Canadian as an adjective describes a Filipino with Canadian characteristics. The new term was meant to make the younger generations more aware of their roots and the culture of where they come from. Thus CanadianFilipino.Net has been using the term consistently since 2016. Its brand new book Indomitable Canadian Filipinos uses the term from cover to cover as shown by the poster, designed by artist Danvic Briones and the flyer below, designed by artist Leo Cunanan Jr, president and publisher of Dahong Pilipino.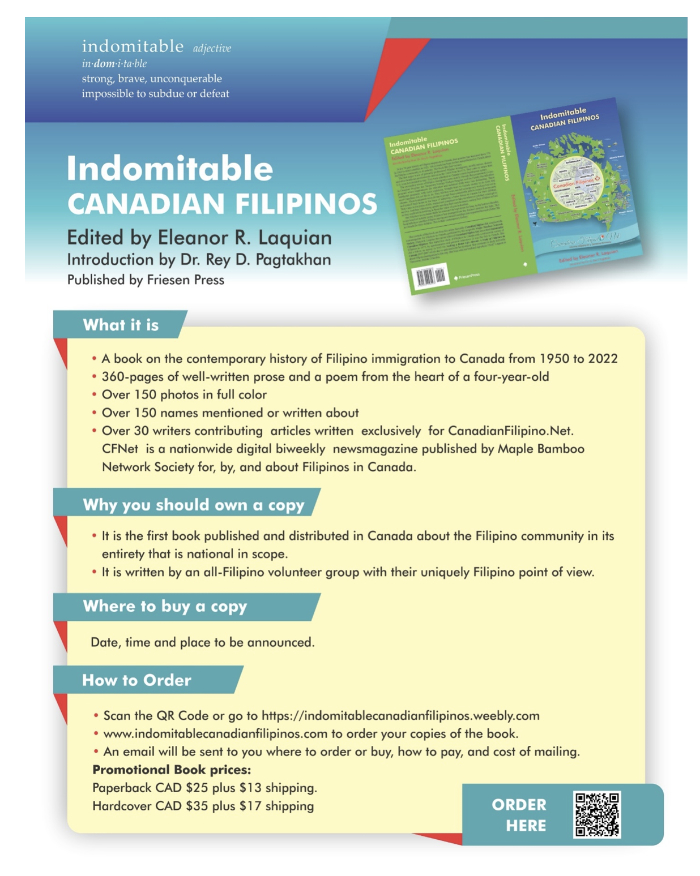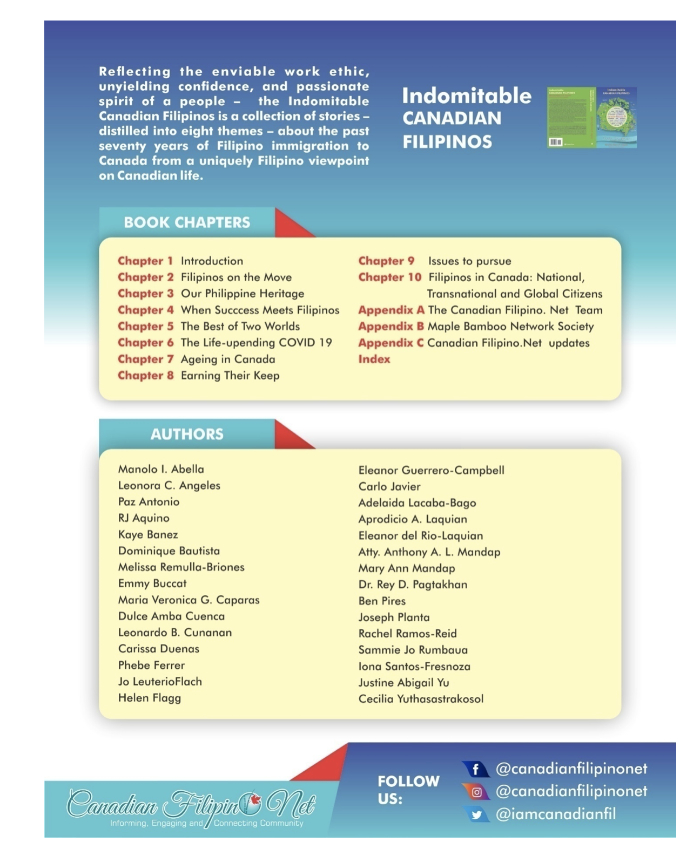 ---
---