July 1, 2022 - Better known as Ding, Leonardo B.Cunanan was an active, respected and influential member of the Filipino community in Canada.
He passed away on June 30 after a long illness. He is survived by his wife Marilyn Abundo-Cunanan, sons Leo Jr. and Rico, and grandchildren Melissa, Jennifer, A.J., Elijah, Jarren, and Vonte.
It is with deep sorrow that Canadian Filipino.Net announces the sad news of Cunanan's passing because he was one of its most ardent supporters from the very start of this biweekly newsmagazine in 2016 to date. Although he was always busy as editor of Dahong Pilipino, the yearly directory he started in 1991, he never failed to comply whenever requested by CFNet for an article on Filipino businesses in Canada or Filipino culture where he was most knowledgeable having lived a remarkable life in the Philippines before immigrating to Canada in 1971. He was our go-to expert whenever CFNet needed information on Filipino businesses and is known all over Canada for his Dahong Pilipino that has been publishing continuously for almost 30 years.
Cunanan was born in San Pablo, Laguna, a province in southern Luzon, where Esteban Cunanan married Celestina Bril and raised a family of seven – five daughters and two sons. One of the sons died in infancy leaving Ding as the only boy of the family.
According to his relatives, Ding caused no trouble even as a baby. He came quietly into this world on January 29, 1937 destined to survive hardships and do good to others. He lost his parents at an early age so he and his siblings were raised by their maternal grandmother Marcela Bril.
Ding was eight when WWII ended in 1945 and was already the breadwinner of the family. When not helping his grandma with house chores, he worked at odd jobs to earn money and sold newspapers at the train station in the city.
Because of his humble beginning and growing up poor, Cunanan learned at a very young age that although there were bad people in the world, there were also many good ones who would be kind, helpful and generous. He was lucky to have a number of such good people in his life to enable him to get ahead. In return for their kindness in his time of need, he became "a man for others," too – always ready to assist, comfort and support those who come to him in need. His wife Marilyn best described him as "he is always sensitive to other people's feelings and needs."
From a street kid shining shoes in the markets of San Pablo to receiving the well deserved Lingkod sa Kapwa Pilipino Presidential Award from Philippine President Corazon Aquino in 1991, Cunanan's life has been a giving and rewarding experience. The CFNet staff and the Filipino community all over Canada will sadly miss their "wonderful friend" for his integrity, personal values, competency, and above all, for his "genuine concern for people."

Ding's Legacy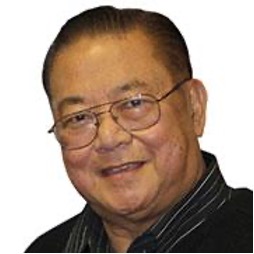 As a journalist and a well-loved and respected community leader, Cunanan did a great service to the Filipino community through his yearly business and community directory Dahong Pilipino. That his career culminated with his appointment as a member of Canada's Immigration and Refugee Board speaks volumes of his contributions to Canada's development and progress and of how he has lived his life as a Canadian Filipino in the service of others.
Dahong Pilipno provides names, addresses and phone numbers of Filipino businesses, professionals and community leaders and organizations. It also features successful Filipinos in their respective professions and businesses to serve as role models and inspiration to younger Filipinos. Its goals are to project a positive image of Canadian Filipinos and to highlight their contributions to Canadian society in general.
In 2011, Ding and his son Leo Jr. transformed it from a print publication to a modern online directory at www.dahongpilipino.ca. It is not only a business directory but a community and business directory. Its website gets over 4,000 hits per month. Now on its 30th year of publication, it continues to improve its contents for Filipinos to keep track of developments in the home country as well as current events in Filipino communities in B.C.
Cunanan arrived in Vancouver in 1971. In addition to his fulltime job at the YMCA, he published the first Filipino community paper, The Philippine Chronicle in 1981 but sold it to devote more time to Dahong Pilipino. His son Leo Jr took over as publisher of Dahong Pilipino when he became a member of the Canada's Immigration and Refugee Board (1997-2005).
Ding will be missed by his countless friends and admirers and the many people he has helped in his life-long mission to assist those in need of kindness and a helping hand. To read about Ding's remarkable struggle from poverty to success, see An Immigrant's Journey at www.DahongPilipino.ca.
---
---