(Part 44 of Dr. Pagtakhan's series on Covid-19)
[Editor's Note: In February 2020, CFNet started publishing Dr. Rey Pagtakhan's Commentary on COVID-19 from his Pilipino Express column, Medisina at Politika. Now in Part 44 of his running commentary, he has kept the Filipino community and other CFNet readers continually informed about 1) the pandemic and its impact, 2) the scientific advances on drugs and vaccines, 3) the effectiveness of public health measures, including mass vaccination, 4) the danger of misinformation and disinformation, and 5) sound public health policy. From time to time, he couples his coverage of COVID-19 with other equally timely public health issues.]
The overlapping presence of two public health emergencies of international concern (PHEIC) is a medical rarity. Regrettably, a reality now. Monkeypox is the recently added global viral outbreak to the yet unfinished COVID-19 pandemic. The World Health Organization (WHO) declared monkeypox a PHEIC on Saturday, July 23, 2022, even as COVID-19 – declared a PHEIC two-and-half-years ago on January 30, 2020 – continues to circulate around the world and, therefore, remains a PHEIC.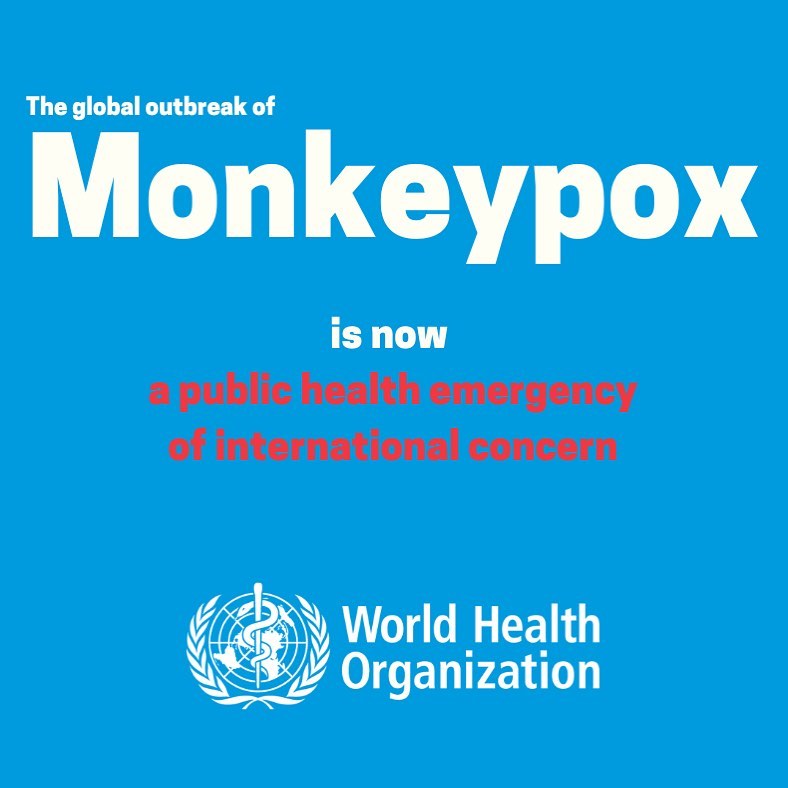 The World Health Organization explains that monkeypox typically presents clinically with fever, rash, and swollen lymph nodes, and may lead to medical complications.
I. COVID-19: An Update


Lessons, Insights and Anticipation:
In the three months since my preceding Commentary, COVID-19 Pandemic: More Than a 2-Year Viral Journey, last May where I summarized some of the lessons learned, insights gained and developments anticipated, this Update validates the following:

1. COVID-19 virus mutates continually into variants that can escape infection-induced and vaccine-induced immunity, and infection or vaccination does not induce prolonged protection against the virus in most people (lessons learned).
Indeed, hospitalizations for COVID-19 have increased in Canada, Australia, USA and Europe. A recent warning from the WHO: "The virus is running freely."

2. Controlling the virus and its cycles of new variants is a formidable challenge, and any level of community protection against the virus can be overcome by the evolution of viral variants (insights gained).
Indeed, the virus is still evolving. The more infectious BA.4 and BA.5 Omicron subvariants now make up the majority of pathogens.

3. Developing "universal" coronavirus vaccines (or at least universal SARS-CoV-2 vaccines that elicit durable and broadly protective immunity against multiple SARS-CoV-2 variants) is an important goal for the immediate future (anticipated development).
Indeed, the U.S. Food and Drug Administration (FDA) has already advised source vaccine makers to update their COVID-19 vaccines to include a component that targets the spike proteins of the Omicron BA.4 and BA.5 subvariants. Although there is no guarantee that BA.4/5 variants will still be circulating by the time the reformulated boosters available in the Fall, it is still the best bet to have this updated vaccine since it is highly likely the circulating dominant variant is going to be some version of Omicron.

4. Living with COVID is best considered not as reaching a numerical threshold of immunity, but as optimizing population protection without prohibitive restrictions on our daily lives (anticipated development).


Indeed, there is an emerging consensus that:
there is no need for masking unless in a crowd, hospitals and long-term care and retirement homes; and
the choice of bringing back restrictions and vaccine mandates is less likely with more provincial governments.


At the same time, there is a predisposition to do simple steps:
getting up-to-date on vaccines, including three doses (or even the fourth for those whose immune system which help prevent more severe illness;
wearing a high-quality mask indoors where COVID-19 is most likely to transmit; and
doing activities outdoors whenever feasible
II. Monkeypox: Burden of Disease, Implications of PHEIC, Challenge


Presently, the rise in caseload has been phenomenal – doubling every two weeks – in Europe and North America. At the time monkeypox was declared a PHEIC on July 23, a little over 18,000 cases from 75 countries were reported to WHO. Compare that figure to 3,000 in 50 countries one-and-a-months earlier. In Canada alone, the Public Health Agency has confirmed 745 cases (58 in British Columbia, one in Yukon, 12 in Alberta, two in Saskatchewan, 326 in Ontario and 346 cases in Quebec). The window to stop the spread appears closing.
Mode of spread is close person-to-person contact with a symptomatic patient in these ways:
Contact with lesions or scabs found on the skin or mucosal surfaces such as eyes, mouth, genitalia, and anus;
Contact with an infected person's bodily fluids such as blood, saliva, and semen; and
Contact with contaminated objects or shared personal items such as bedding, towels, toothbrushes, and utensils.
While anyone is vulnerable to the infection, the spread is "predominant among gay, bisexual, and other men who have sex with men – with 99 percent of cases reported to date occurring in people who identify as male and the majority having reported same-sex sexual contact." Women account for less than one percent of the caseload.
The period of incubation can be longer than the usual three weeks for most. Thus, a contagious case can transmit the virus for a long period of time.
To reduce transmission, WHO and Canadian health authorities have recommended:
practicing safer sex,
having fewer sexual partners, and
staying home when sick
The Canadian government has pledged $1M to fund community groups affected and to raise awareness and fight the stigma around the disease. The National Advisory Committee on Immunization has advised vaccination with Imvamune. The government has distributed more than 70,000 doses of the vaccine nationwide; about 27,000 doses have been administered. PHAC has assured Canadians that the vaccine supply is sufficient.


Implications of a PHEIC Declaration
A PHEIC declaration underscores the situation requires urgent global attention and hopes it would galvanize international action to prevent a pandemic, including:
nations committing to ramp up the manufacture and supply of diagnostic testing, medicines and vaccines;
research getting a boost from governments, universities and industry ( as happened with COVID-19);
the response is coordinated globally with donors collaborating with health officials and researchers; and
nations working together to ensure sufficient resources are provided to low- and middle-income countries where the disease has historically been most prevalent.
The Challenge
"Sleepwalking into the next pandemic" is the title of the Nature Medicine's editorial of July 21, 2022. The journal's central message is for "governments and funders…(to) prioritize research on emerging and re-emerging infectious diseases such as monkeypox to prevent another pandemic."
It made the observation that even if the amount of research carried out on coronavirus between the time SARS (severe acute respiratory syndrome due to coronavirus-1) ended in mid-2003 and COVID-19 began 16 years later in December 2019 (also an acute respiratory disease but due to a novel coronavirus labelled coronavirus-2 to differentiate) was only "little," it allowed the rapid development of life-saving vaccines and drugs effective against COVID-19. But the medical and public health community still had to wait for a year and the supply has not been sufficient for the world community. We still remember the long wait for the vaccines Canada had to endure.
The observation was made to emphasize the point that monkeypox virus has already been known since the 1970s to jump "from animals to humans". In fact, an outbreak occurred in 2017 in Nigeria. Yet, no funding for research on the virus was made available.
The editorial has made its case persuasive: "investment in the public health workforce not only improves population health but also boosts the economy."
Summary
Our experience with the COVID-19 pandemic has shown us that competition for vaccines during an emergency was a major problem in many countries'COVID-19 responses.
The PHEIC declaration on monkeypox "presents an opportunity to right this wrong," observed the World Health Organization. It says: "In an emergency, it is senseless to compete for vaccine doses and treatments. Instead, diagnostics and vaccines should be shared and targeted to where they are most needed. There is little doubt that the world's poorest and most vulnerable failed during the response to COVID-19. Vaccines that offer protection against monkeypox exist and they need to be used for the benefit of all. Wealthy countries must not make the same mistake."
The simultaneous presence of two global viral emergencies presents us with two goals: let everyone be aware of this PHEIC on monkeypox and hopefully, we can prevent its establishment in Canada; and let us hope that the unfinished COVID-19 pandemic eventually ends with no more than optimizing population protection without prohibitive restrictions on our daily lives.
---