There has been an abundance of written works about young immigrants and their travails in adjusting to life in Canada, but there appears to be hardly any told from the perspective of the elderly. This, exactly, is what the latest book, Tanglaw: Immigrant Seniors Find Their True North, accomplishes by chronicling inspiring stories of immigrant seniors.
The Multicultural Helping House Society (MHHS), with funding support from the New Horizons for Seniors Program, bankrolled the book project, "probably the first of its kind written about the lives of immigrant seniors moving or residing in Canada," MHHS President and CEO Tomas "Tatay Tom" Avendano said.
The book will be launched during the Seniors' Multicultural Dance and Book Launch event on February 18, at St. Patrick's Gym in Vancouver, B.C.
Written by journalist Mary Ann Mandap, whom MHHS commissioned for this project, Tanglaw "sheds light on the hopes, aspirations, struggles and little triumphs of individuals who staked their future in Canada and somehow found joy and fulfillment," according to Avendano.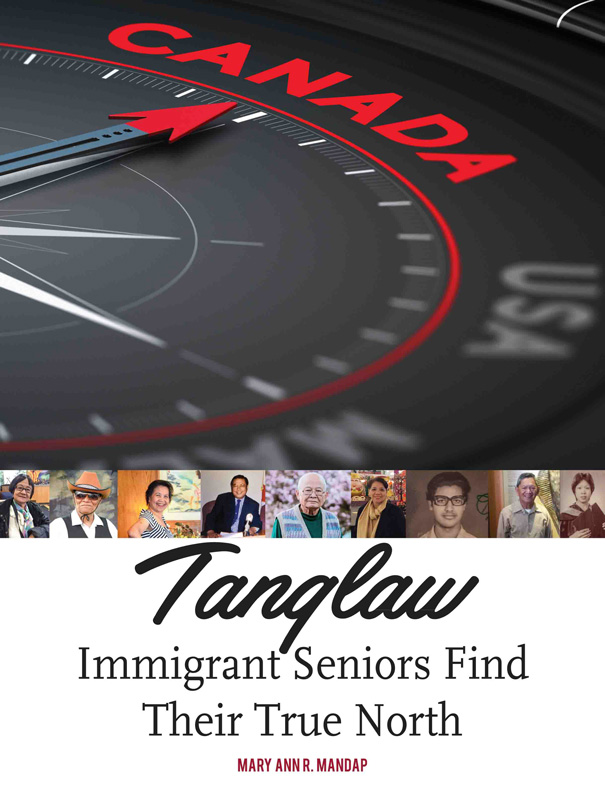 Explaining the rationale for the project, Angie Igonia, MHHS Sampaguita Seniors coordinator, said "There is a familiar cliché that says 'you can't teach an old dog new tricks.' In the particular case of migrants, it is probably true that seniors or elderly individuals are the least-capable or slowest to cope in a new environment. As such, they need special attention, and perhaps new forms of intervention, to aid them as they transition to life in this new environment. This is one of the things that MHHS is closely looking into at the moment."
Igonia said it is not entirely true that seniors are incapable of adjusting or surmounting the challenges of migration. "This collection of mini-biographies is a piece of work that will hopefully inspire many more who find themselves in similar situations to move on and live life in Canada to the fullest."
Mandap said this book, her very first, also draws out the diversity of immigrants' backgrounds. "One is a former Philippine local politician turned immigrant champion. Another is a real estate developer who found success in leading a Buddhist charity foundation. There was one who blazed the trail for Filipino doctors to practise their profession in Canada, and another who gained renown for his archaeological finds," she said.
Not all lived extraordinary lives or made award-winning achievements, according to her."The vast majority fit the label of an ordinary immigrant fleeing poverty and seeking the proverbial verdant pastures, or simply wanting to rejoin family members."
"Each story is insightful, and casts a revealing light on the unique circumstances and seldom-explored travails of immigrant seniors coping with life in Canada," Mandap sums it up. "Their stories likewise highlight the value of having a sense of community, of mutual help, and the boundless opportunities Canada provides immigrants for cultural expression and self-realization."
Avendano hopes this will be the first volume in a series of works that they can proudly leave as a legacy to the future generations of immigrants.
---