The Philippine Consulate General in Vancouver, headed by Hon. Maria Andrelita Austria, has confirmed that Filipino restaurants all over Canada will observe Filipino Restaurant Month starting on April 1stuntil April 30. Some participating restaurants in Vancouver include:
Kumare
Plato Filipino
Max's
Kulinarya
Grandt Kitchen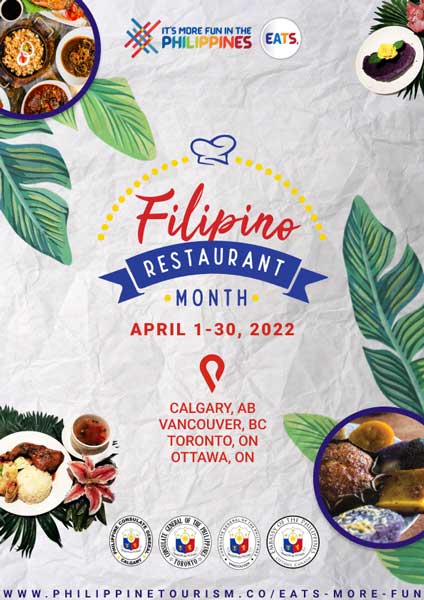 The full list of participating restaurants will be released closer to the start of Filipino Restaurant Month. This project, which will be jointly sponsored by the Philippine Embassy in Ottawa and the Philippine Consulates General in Calgary, Toronto and Vancouver, will highlight Filipino cuisine, ingredients, chefs, and restaurants throughout Canada.
"Filipino Restaurant Month aims to introduce and promote the Philippines to the Canadian mainstream market as a destination for unique gastronomic experiences by featuring the rich Filipino cuisine and food as cultural heritage through partner restaurants across Canada," says Soleil Tropicales, Tourism Attaché of Philippine Department of Tourism.
In April, select Filipino restaurants in Calgary, Toronto, Vancouver, and Ottawa will offer prix fixe menus, allowing diners to explore the extraordinary flavors of this unique and much-loved cuisine. Filipino cuisine is a combination of many tastes predominantly sour and sweet. Most dishes start with sautéed garlic, onions and tomatoes.
What is Filipino cuisine?
Adobo is considered the Philippine national dish. There are as many ways of cooking it as there are cooks but the basic ingredients are pork, garlic, vinegar, soy sauce, black pepper and bay leaves. There are many variations – with chicken, pork with chicken, or beef. Beef adobo when cooked with coconut milk and without soy sauce is called adobado. But the ultimate festive fair is a whole roasted pig called lechon served with a thick liver sauce. Left-over lechon is made into paksiw na lechon.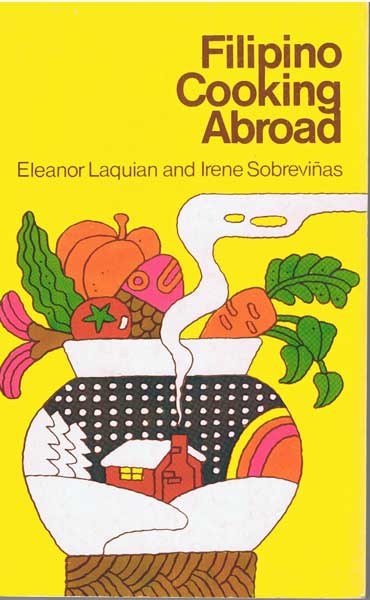 From my cookbook, Filipino Cooking Abroad, here's a description of Filipino cuisine: Like Canadian Filipinos, Filipino cooking is a blend of East and West. It reflects the history of the islands. On a Malayan base, Chinese, Japanese, Hindu, Spanish and American ingredients have been added through centuries of foreign influence and, surprisingly, a blend with an identity of its own has emerged. Native Filipino cooking is not too spicy. Many of the dishes are remarkably close to native fares in Indonesia, Malaysia, Myanmar, Thailand, Vietnam and other Southeast Asian countries. For example, the Filipino sinigang is very similar to Thailand's tom yam and Indonesia's sayur asam. The basic staple is rice, served steamed and plain. Main source of protein is fish which abound in oceans, lakes, streams, and ponds surrounding the more than 7,000 islands that make up the archipelago. No Filipino meal is complete without dessert whether it is a simple fruit or prepared sweets from glutinous rice and coconut milk.
Although Filipino culture is homogeneous, there are specific differences in cooking and food preferences that readily identifies the regional identity of many dishes. Northern Luzon cooking is very simple relying mainly on native vegetables such as saluyot and a bit of fish or meat and bagoong, fermented shrimps, for flavor. Examples are pinakbet, dinendeg or inabraw. Central Plains, close to Manila, inhabited by Tagalogs and Pampangos, whose cooking is marked by clever combinations of different ingredients in a single dish with rich sauces. They are famous for rellenong bangus (stuffed milkfish), morcon, embutido and, caldereta, made with young goat meat. Southern Tagalog cooking is influenced by their main product, coconut, and the availability of fresh water fish – dalag (mudfish), catfish, tilapia, kanduli. Their cooking uses sour fruits like kamias, tamarind and overripe guavas for sinigang. They are famous for their rice cakes using glutinous rice, coconut milk and cane sugar or panocha. Bicol on the southern tip of Luzon is notable for its use of coconut milk and hot chilies. Such as laing made from gabi leaves, coconut milk and chili peppers. Visayas region, composed of many small islands, thrive on salt water seafoods served as kinilaw. It is noted for dried salted seafoods like kalkag, daing na posit and tuyo. Their food is seasoned with guinamos, similar to bagoong but thicker. Mindanao is largely inhabited by Muslim Filipinos. Their food is closely similar to Indonesian and Malaysian fare with hot chilies and curry. As in piarun, tiola sapi and lapua.


The interaction of Philippine traditional cooking and foreign influences may be seen in Spanish paella seasoned with patis (fermented fish sauce) and soy cauce. The Filipino versions of Chinese noodles is called pancit luglug, pancit bihon, and pancit canton, and for their egg roll, Filipinos have lumpiang sariwa, and lumpiang Shanhai. The Filipino take on the Spanish boiled dinner cocido, is puchero, always served with a dipping sauce of mashed broiled eggplant seasoned with vinegar and mashed garlic. For dessert, they learned leche flan and budin from their Spanish colonizers and cakes, pies and cookies from the Americans, but mango pie and mango cake are their own concoctions. The blending of traditional Filipino cooking and foreign borrowings is generally tasty without being spicy, simple but not bare, exciting but not strange, and delicious without being too rich nor fattening.
Since the proof of the pudding is in the eating, this year's Filipino Restaurant Month in Canada may just prove to those adventurous enough to dine out that the best in East and West has been achieved in Filipino cuisine.
---
---