With the high interest of readers in the column Pathways for Skilled Immigrants, Canadian Filipino Net is co-sponsoring a Panel Discussion on "Pathways to Professions for Skilled Immigrants: How Not to Stumble in Paradise" on June 28, 6:30 – 8:30 pm at the Vancouver Public Library Central Branch in downtown Vancouver.
The target audience of the event is skilled immigrants in the fields of engineering, nursing and law who wish to access their professions in BC.
Featured panelists include CFN writers Eleanor Guerrero Campbell (author of the groundbreaking novel "Stumbling through Paradise" about the struggles of a fictional Filipino immigrant family in Canada due to inability to practise their professions), Silvia di Blasio (Career Development Practitioner, Case Manager at Career Paths in ISSofBC specializing in engineering advice and writer for CFN Column on Paths to Professions for Skilled Immigrants), and Dulce Cuenca (lawyer, human rights advocate and writer for CFN Column on That's the Law). The fourth panelist is William Chan, Career Coach at Career Paths in Douglas College specializing in advice to skilled immigrants in the field of health.
Sponsored by the Vancouver Public Library, this event will have copies of the book "Stumbling Through Paradise: A Feast of Mercy for Manuel del Mundo" available at the end of the session. Profit proceeds will go to Canadian Filipino Net.
This is a free public event. Attendees are encouraged to register early at: tinyurl.com/lcf66nc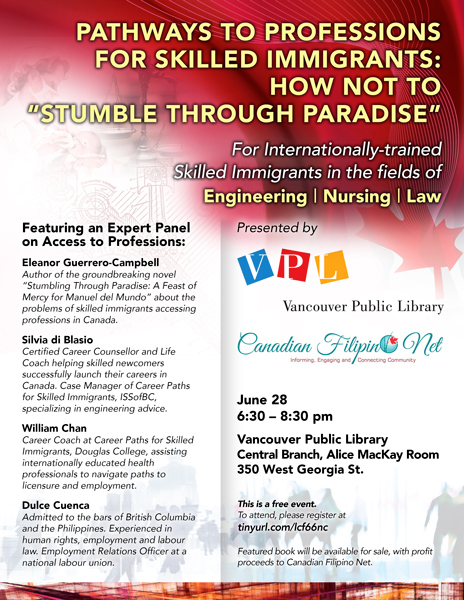 ---