May 1, 2020 - Carmelita Carreon and friend Agnes Uguil bought take-out food for a special group of people.
It was for doctors, nurses, and other healthcare workers at the St. Paul's Hospital in Vancouver.
While a number of other individuals across Canada are doing the same in appreciation of those working in the frontlines against the COVID-19 pandemic, Carreon's treat was deeply personal.
The Vancouver woman originally from the Philippines has a story about the novel coronavirus that has upended the world since it emerged in late 2019.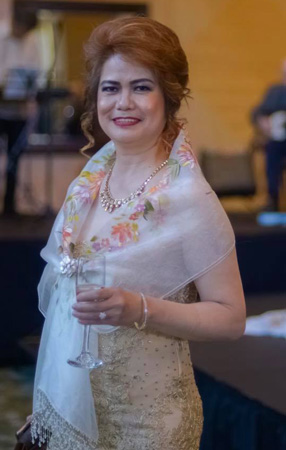 Virus survivor Carmelita Carreon lives in Vancouver.
She lost a sister to COVID-19, battled the virus herself, as her young daughter fought her own struggle against the virus.
It's a story about survival and hope.
Carreon's older sister Leonora Castro died of COVID-19 on April 17 at St. Paul's Hospital.
Carreon herself contracted the virus, and she recovered after going into home isolation.
Her 15-year-old daughter Jolina exhibited symptoms, and like her mother, overcame the virus at home.
Sharing her story with ReyFort Media Group, a local media organization, Carreon reminded members of the Canadian Filipino community about the importance of simple steps to combat the novel coronavirus.
Carreon said that people can help contain the spread of COVID-19 by regularly washing their hands, keeping their distance from others, wearing a mask, and staying home.
Her sister Leonora was supposed to celebrate her 71st birthday on April 11, four days after her demise.
According to Carreon's account, her sister returned to Vancouver from a trip to the Philippines on March 16.
The day before on March 15, Metro Manila was placed by the Philippine government under a lockdown to contain COVID-19.
At the Vancouver International Airport, her sister was told by authorities to self-quarantine for 14 days.
After four days, Leonora began to experience symptoms like low grade fever, body aches, and coughing.
The woman was taken to the Mount Saint Joseph Hospital in Vancouver on March 25.
Carreon's sister was confined overnight, and the next day on March 26, she was transferred to St. Paul's Hospital, where she eventually died.
Meanwhile, Carreon went to Mount Saint Joseph Hospital on March 26 to have herself checked.
Carreon was advised that she has COVID-19, and told to self isolate for 14 days.
Carreon related that during her quarantine, she took Vitamin C and Tylenol, as well as the traditional Filipino tea made with ginger, called salabat.
On April 3, Carreon recovered from COVID-19.
Meanwhile, her daughter Jolina also exhibited symptoms. However, the young girl recovered after two days.
---