The 2019 Dahong Pilipino, the one and only Filipino Canadian business and community directory in British Columbia, comes out in early February with a full page ad for the Canadian Filipino Net website.
The colourful cover of this 26th anniversary edition , designed by publisher Leo Cunanan, Jr., embodies Dahon's appreciation of Canada's multicultural society and a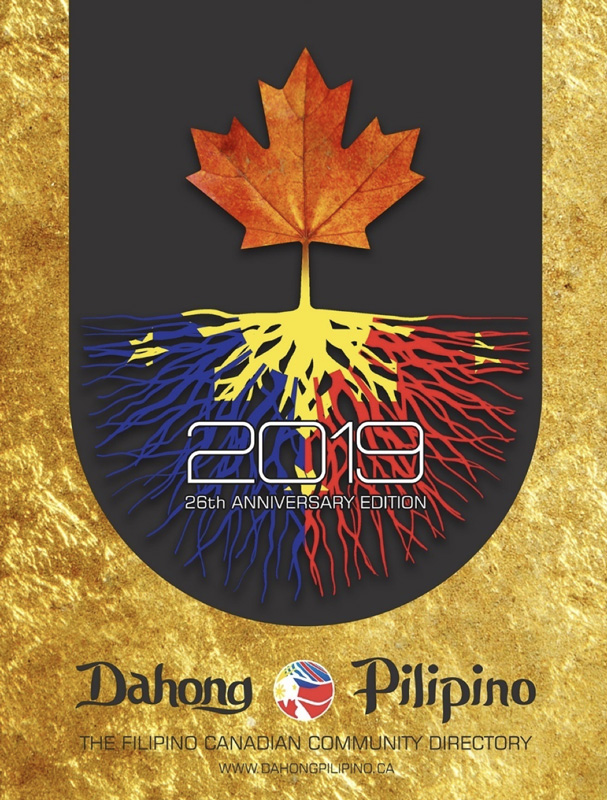 reiteration of its commitment to serve the Filipino community at large for many more years to come. This pledge is shown symbolically through a red maple leaf supported by multicolour roots.
As Dahon's editor, Ding Cunanan, explains: "The roots represent the Philippines, our country of origin, home of our childhood and happy memories that gave us opportunities for education, rich cultural heritage and pride as a people. We came from a nation that encouraged us to broaden our horizon and pursue our dreams, even moving to other countries like Canada in search of greener pastures while not forgetting our homeland."
A keen observer will discern a trace of the Philippine flag among the colourful roots.
As Cunanan continues to explain the symbolism, "The maple leaf represents Canada, our adopted country that has welcomed us with open arms and given us a new home. Canada recognizes the potential of all new Canadians and encourages us to integrate into Canadian society and take an active part in its social, cultural and political affairs. We are able to enjoy a harmonious relationship with people of diverse cultural and ethnic backgrounds because of Canada's policy of multiculturalism which allows us to keep our homeland identities and take pride in our ancestry. Truly, it gives us all a feeling of belonging, security and self-confidence."
The Canadian Filipino Net website has been a long-time supporter of Dahong Pilipino and has collaborated successfully with Dahon on many projects. The Cunanans had published a number of articles in the CFNet website and CFNet is honoured to count them among its regular contributors. The current CFNet logo was designed by Leo Cunanan, Jr.
In another collaboration with CFNet, Dahon is carrying a full page ad for CFNet in its 2019 print and online editions. This is to help advertise the CFNet website and garner support and donations to enable CFNet to expand and continue publishing. The website was initially funded by three founding directors of the non-profit Maple Bamboo Network Society, CFNet's publisher. CFNet now needs additional funds to develop new ways of telling the Canadian Filipino story to Filipinos and Canadians alike.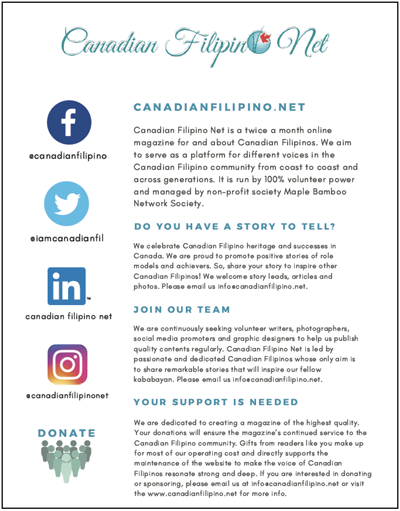 ---