A Winnipeg park has been named in honour of Dr. Rey D. Pagtakhan for his many contributions to the community and his adopted country.
The Philippine-born Pagtakhan was the first Canadian Filipino elected as Member of Parliament (MP) in Canada.
Now retired, Pagtakhan is a regular contributor and dear friend of Canadian Filipino.Net and its publisher, Maple Bamboo Network Society.
The dedication of the park in Pagtakhan's name was held on June 25, 2022.
In his remarks, Pagtakhan thanked, among many others, Winnipeg city councillor Brian Mayes, who initiated the naming of the park located at 369 Beliveau Road in the city's St. Vital ward.
"You have signalled that our relatively new community has come of age in Winnipeg, Manitoba and Canada," the former Liberal MP said.
"You have conveyed the message that Winnipeg, and Canada for that matter, offer all of their people – citizens and immigrants alike – the opportunities for service to our common city and country," Pagtakhan also said.
"Personally, I am indeed deeply honoured and profoundly humbled," Pagtakhan said.
Pagtakhan was elected MP for Winnipeg North-St. Paul in 1988 and served until 2004.
Pagtakhan was invested into the Order of Manitoba in 2017 for his contributions to medicine and public service.
In his statement, Winnipeg councillor Mayes recalled that Pagtakhan and his wife Gloria immigrated to Canada in 1968 and settled in St.Vital to start a family.
"Since his arrival in Winnipeg, he has been a practicing physician, a lung specialist, a Director of the Cystic Fibrosis Center, a Professor of Pediatrics and Child Health, a School Trustee, a volunteer, a recipient of several distinctions and the first Filipino-Canadian Member of Parliament. These are just a few of the roles he has occupied during his illustrious career," Mayes said.
Former city councillor and Pagtakhan's nephew, Mike Pagtakhan, lauded the move to name the park in his uncle's honour.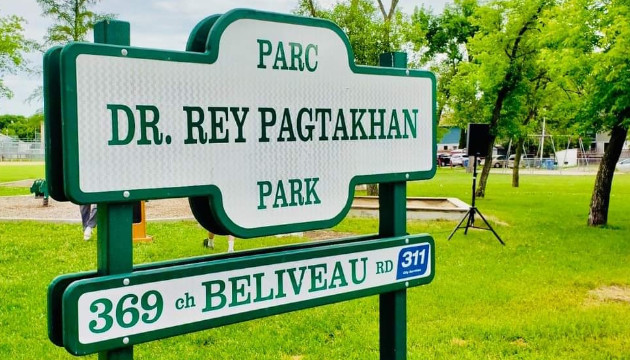 The park is located at 369 Beliveau Road in Winnipeg's St. Vital ward. Photo by Rey-Ar Reyes of Pilipino Express.
It took almost two decades before another Canadian Filipino was elected to Parliament. In 2021, Rechie Valdez made history by becoming the second Canadian Filipino and the first Canadian Filipino woman to win a seat in the House of Commons.
Valdez, who represents the Ontario riding of Mississauga-Streetsville, attended the park's dedication and gave Pagtakhan a certificate of congratulations at the event.
"Thank you for your mentorship, advice, being a trail blazer for Filipino-Canadians, and your public service to our country," the certificate stated.
Valdez also brought a message from Canadian Prime Minister Justin Trudeau, who commended Pagtakhan.
"Dr. Rey Pagtakhan's illustrious political career continues to be an inspiration to many," Trudeau wrote.
Pagtakhan was a lung specialist at the Children's Hospital of Winnipeg and a pediatric professor at the University of Manitoba. He was also a long-time St. Vital resident and served as a St. Vital school trustee.
In addition to his role as MP, the Philippine-born physician held the following responsibilities in government: Minister of Western Economic Diversification, Secretary of State (Science, Research and Development), Minister of Veterans Affairs, Secretary of State (Asia-Pacific), Parliamentary Secretary to the Prime Minister, and federal regional minister for Manitoba.
Jon Reyes, a member of the Manitoba legislative assembly representing the constituency of Waverley, was present at the June 25 event.
"Dr. Rey is a trailblazer in the Filipino, political and medical communities dedicating his life for serving others," Reyes posted on social media.
Michael Eze, a professor of chemistry at the University of Winnipeg and an elder leader in the Igbo Nigerian community in Winnipeg, spoke at the event.
"His successes are magnified by his humility and zeal to place himself in advocacy for the well-being of all. My Community, 'Umunna (Igbo),' therefore crowned him Chief OCHENDO (Protector of all persons) in May 2012," Eze recalled.
Perla Javate, the chairperson of the Filipino Heritage Council, said in her remarks that the event represented a "proud moment for the Philippine community in Manitoba".
"Dr. Rey, your lifelong commitment to serving humanity in various capacities, as a medical doctor, as a professor, as a politician, sitting in many committees and being part of notable undertakings, always pursuing excellence and the common good, inspires great admiration," Javate said.
Pagtakhan also received a letter of congratulations from ANCOP International Canada Inc. ANCOP stands for 'Answering the Cry of the Poor', and it is a registered Canadian nonprofit dedicated to anti-poverty programs.
"We thank you for your support of our ANCOP Work for the Poor in years past, and of late, being carried on by your children, who have remained advocates for the ANCOP cause and its poor beneficiaries," wrote ANCOP International Canada Inc. president Gabriel Consulta.
Larry Vickar, President of Automotive Group and a continuing philanthropist to ANCOP, remarked: "When I think of Dr. Rey, I think of an extremely proud Filipino Canadian with a bright mind, always inquisitive and planning the next step in any task…a visionary, a trailblazer, a leader amongst men and women, daring to go to new frontiers to add value to humankind. All these wouldn't be possible without one of the "strongest "work ethics, of anyone I know… integrity which he has in spades!… A family man, here again at the top of the class."
---