The year 2018 welcomes the publication of a new cookbook, The New Filipino Kitchen, chronicling the immigrant stories and their personally-picked recipes of Filipino chefs and food writers scattered around the globe.
Two of those featured are Canadian Filipinos chef Allan Pineda and food writer Nastasha Alli.
A call for submissions of stories and recipes was opened in 2016 by the book's compiler and editor Jacqueline Chio-Lauri. She recalls, "I picked Allan and Nastasha's submissions because of their engaging narratives and recipes. They also took time out of their hectic schedules to work with me during the editing process, which I greatly appreciated."
Chef Allan Pineda has been making waves in Winnipeg's culinary scene for the last 20 years. He and wife Amanda are the brains behind Baon Manila Nights, a pop-up dinner series they started in 2015 and which quickly gained popularity and a consistent following.
The New Filipino Kitchen is Pineda's first foray into cookbook writing. "But I would like to create a healthy Filipino cookbook myself as well as a cannabis cookbook in the future," says Pineda. He discovered the call for submissions via social media.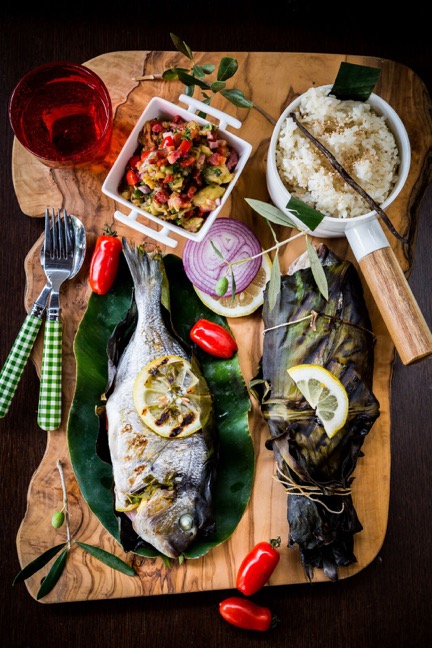 The book titled The New Filipino Kitchen comes out in September 2018. Photo by Rowena Dumlao-Giardina, courtesy of Agate Publishing.
Pineda recalls, "I noticed there was no Canadian content at that time so I offered."
Food writer, blogger and podcast host and producer Nastasha Alli is a tech consultant by day in Toronto. She has written for NOW Toronto and Canadian Living magazines. Alli's blog, Uncovering Philippine Foodways ("foodways" being a social sciences term for the study of how history, traditions and local culture intersect with food) and podcast series Exploring Filipino Kitchens featuring interviews on and about Filipino food, identity, migration and travel.
Elated about her inclusion in the anthology, Alli exclaims, "I'm so excited to have a published recipe in a book so close to our hearts!" For the book, she has chosen a recipe close to another distinctly Filipino celebration – the party.
Alli remembers, "Growing up in the Philippines, party food always meant some kind of pancit and lumpia, which I remember my grandmother making pretty much every time we visited. I always went home with at least one tupperware container full of her specialties!"
Alli and Chio-Lauri previously crossed paths when they both contributed to the Filipino Food Movement blog.
In compiling the stories and recipes, Chio-Lauri asked the question "What does your chosen Filipino dish mean to you?" to the contributors. She relates, "I wanted them to explore what the food meant to them beyond what it is, how it's cooked and what memories are associated with it."
Chio-Lauri confesses, "One of the challenges in putting together this anthology was to make sure that there is diversity and balance in both the themes of the narratives and the kinds of dishes."
Chio-Lauri ultimately wishes that with The New Filipino Kitchen, "our marginalized cuisine and collective voices resonate across the globe." She currently lives in Norway, her sixth country of residence.
Chio-Lauri started her career in the food industry as a restaurateur, including stints in the Philippines and Dubai. She has penned several marketing materials for clients around the world as well as stories that have been included in anthologies such as Chicken Soup for the Soul.
The New Filipino Kitchen is slated for release in September 2018. James Beard Award-winning food writer John Birdsall provides the foreword with food styling and photography by Rowena Dumlao-Giardina. Other contributors include White House executive chef Cris Comerford and "The Food Buddha" Rogelio Aglibot.
---
---